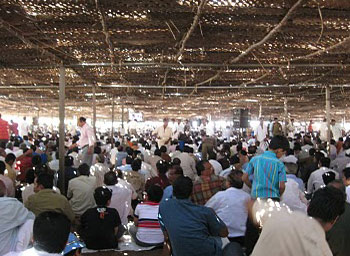 PROGRESS achieved in society over the years has caused grave problems like corruption, violence, exploitation and harassment of women and the aged, Marthoma Church's spiritual head Joseph Mar Thoma Metropolitan has said.
In his inaugural address at the 117th Maramon Convention, organised by the Marthoma Evangelistic Association, on the sand-bed of Pampa near Kozhenchery on Sunday, Joseph Marthoma Metropolitan said that the people across the world face grave problems consequent to materialistic progress.
People have now distanced themselves from the path of God due to the improvement in the standard of living and are clamoring after excessive materialistic satisfaction, he said.
Development in education facilities had resulted in improved earnings and the consequent exploitation of the less privileged. Hence, the progress achieved in recent times had created more problems than virtues for the people, Joseph Marthoma said.
Even evangelists prefer to work in foreign countries instead of serving the poor and backward class people for their uplift, he regretted.
Valiya Metropolitan Philipose Mar Chrysostum delivered the benedictory address. Evangelistic Association president Thomas Mar Thimothios presided over the meeting. Association general secretary Rev Abraham P Oommen welcomed the gathering.
Rev Martin Alphonse delivered the day's message.
Geevarghese Mar Athanasios, Geevarghese Mar Theodosios, Joseph Mar Barnabas, Abraham Mar Paulose, Mathews Mar Markarios, Gregorios Mar Zephanos, Thomas Mar Timothios, CSI Bishop Sam Mathew, Bishop Malusi Mpumlwana and Rev Kang-San-Tan were present at the inaugural meeting.
Chief Minister Oommen Chandy, State ministers P J Joseph and Adoor Prakash, MPs P J Kurian, Anto Antony and Kodikunnil Suresh, Chief Whip P C George, MLAs K Sivadasan Nair, Raju Abraham and P C Vishnunath, District Panchayat president Babu George, District Collector P Venugopal, Annapoorandevi, P Mohanraj, Peelipose Thomas, D K John, Rev Sam T Mathew, P P Achenkunju and Thomas T George were among those who were present on the occasion, IBN Live reported.
From the archives: Click here for Maramon Convention 2011 coverage