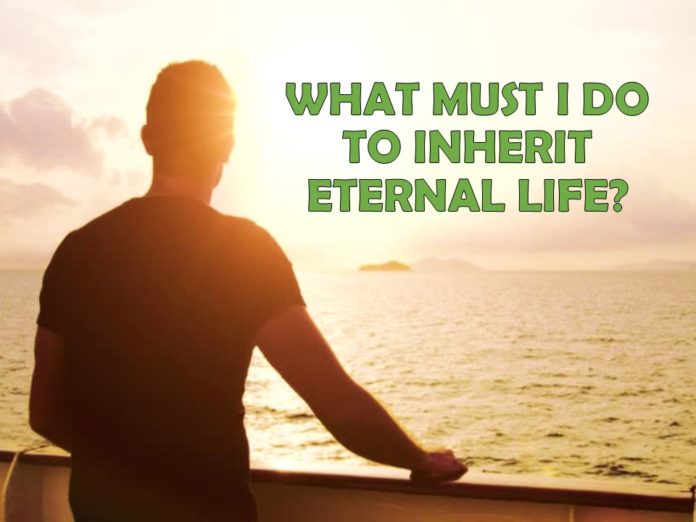 By Robin Sam
Passage for meditation: Mark 10: 17-27.
In the passage above, we read about a rich young ruler who came up to Jesus Christ and asked him the most important question anyone can have in the world. He asked Jesus: "What shall I do that I may inherit eternal life?"
We read about the same incident in two other Gospels also. Matthew and Luke record it.
Who was the man who accosted Jesus Christ?
 Luke 18:18 says he was a certain young ruler. He was a certain ruler who was uncertain about his future, if you will.
A leader is one who has followers. How could he have remained a leader if he did not know where he was going himself? Sadly, there are leaders who neither know where they are going or where they are leading others to in the world around us. You can find such leaders in every sphere of life – polity, business and religion. There are certain leaders who are not so certain about their destination.
Who was the man who accosted Jesus Christ?
Matthew 19:20 says he was a young man. He was a man who had kept the commandments from his youth. But, he had a problem. He did not know what good thing he ought to do that he may inherit eternal life.
Who was the man who accosted Jesus Christ?
Mark 10:22 says he was a man of great possessions.
The man who had great possessions, the man who was rich came to Jesus with a problem on his heart and a question on his mind. He had a chance to go back home with a smile on his lips and a song of praise in his mouth.
In the Bible, everyone who approached Jesus with a problem found a solution. Everyone who came to the Lord either received a miracle or saw a miracle happen to others. They had a reason to rejoice in His presence, feel glad by His touch and received deliverance from oppressing situations. Those that heard Him went back home wondering at the authority with which He spoke on things concerning the earthly and the eternal.
'Then the shepherds returned, glorifying and praising God for all the things that they had heard and seen, as it was told them' (Luke 2:20).
'(Simeon) took Him up in his arms and blessed God and said: "Lord, now You are letting Your servant depart in peace, according to Your word' (Luke 2: 28-29).
Anna, the 84-year-old prophetess, gave thanks to the Lord, and spoke of Him to all those who looked for redemption in Jerusalem (Luke 2:36-37).
The wise men from the east fell down and worshiped Him. And when they had opened their treasures, they presented gifts to Him: gold, frankincense, and myrrh (Matthew 2:11).
The man who was possessed by a legion of evil spirits became right in his mind, clothed himself up and proclaimed all that Jesus had done for him in 10 cities (Mark 5:20).
The apostles who lived with Jesus for 3 ½ years went out and preached everywhere (Mark 16:20).
All those who were touched by the love of Jesus and impacted by His ministry glorified God and proclaimed about His goodness.
All those who came into contact with Jesus had something to rejoice about or something to glorify God about or had something to share about Him with others. All those who knew Him closely had praise or a proclamation on their lips.
Dear brother/sister, will you take a moment to reflect on your life? What has Jesus done for you? What have you done for Him? Are you praising Him? Are you proclaiming Him? If you are truly impacted by His love and grace, you cannot but praise and proclaim Him.
But, the rich young ruler who came to Jesus went home heartbroken. The KJV says he went away grieved. He went away disheartened (NKJV).
Why did the rich young ruler go away disheartened?
Mark 10: 21 says: Then Jesus, looking at him, loved him, and said to him, "One thing you lack: Go your way, sell whatever you have and give to the poor, and you will have treasure in heaven; and come, take up the cross, and follow Me."
The rich young ruler loved his riches more than anything. His love for the money and the good life was the hindrance to his attaining the eternal life.
There are three instances in the Bible when Jesus told people that they have a lack including this young man. In the book of Revelations he told the church at Ephesus and the Thyatira church that He held something against them.
In Rev. 2:4, Jesus told the Ephesus church: 'Nevertheless, I have this against you, that you have left your first love.'
And in Rev. 2:20, He told the Thyatira church: 'Nevertheless I have a few things against you, because you allow that woman Jezebel, who calls herself a prophetess, to teach and seduce My servants to commit sexual immorality and eat things sacrificed to idols.'
What did Jesus really mean when He confronted these two churches with their lack?
The church at Ephesus was a channel of love. However, the channel had been obstructed. Love does not flow through it anymore.
The church at Thyatira through which the Gospel of the Cross flowed had become a channel of deceptive and idolatrous teachings.
The rich young ruler could have been a channel of blessing to others, but he chose not to.
The man was blessed, but he was not willing to bless others. He received blessings; he did not pass them on. The channel had become stagnated.
God is asking us to check if we are truly His channels of love, blessings and good teaching?
Dear brother / sister, are you a channel of love? Or are you a blocked channel like the church at Ephesus? Are you a channel of blessings? Or is your channel blocked due to selfishness and avarice for money? Are you a channel of good and glad tidings? Or are you a channel of deception and doom? Are your testimonies and teachings beguiling others and pushing them into immorality? Like the church at Thyatira?
The rich young ruler was perhaps the only one after Judas Iscariot who lost it even after he saw and heard Jesus.
Pharisee Nicodemus, the man who visited Jesus in the dark of the night, did not follow Jesus when He was alive, but he brought a mixture of myrrh and aloes, about a hundred pounds to bury the body of Christ according to Jewish custom (John 19:39).
Joseph of Arimathea, the rich man who was part of the Jewish council (the Sanhedrin), did not publicly follow Jesus for fear of being blacklisted by the powerful Pharisees of the day. After the death of Jesus, however, he gave his burial cave for the Lord's burial.
But, the rich young ruler of Mark 10 lost the plot. His life teaches us an important thing:
Great beginnings need not necessarily have great endings. It's not in how or when you began, but how well you run.
Run in such a way that you may receive, says Apostle Paul in 1 Cor. 9:24.
How well you finish tomorrow depends on how well you run today.
Paul gave Timothy his protégé an advice. He told him in 2 Timothy 2:22, 'Flee also youthful lusts; but pursue righteousness.'
Proverbs 4:12 says, when you are in the way of wisdom and the right paths, 'When you walk, your steps will not be hindered, and when you run, you will not stumble.'
'Even the youths shall faint and be weary, and the young men shall utterly fall, but those who wait on the Lord shall renew their strength; they shall mount up with wings like eagles, they shall run and not be weary, they shall walk and not faint' (Isaiah 40:30-31).
Two people are cited in the Bible for asking Jesus what to do to inherit eternal life.
In Luke 10: 25, a certain lawyer posed the question to Jesus. The Lord drew him into a conversation and made him answer his own question.
The rich young ruler in Mark 10 was the second one. Jesus told him 5 out of the 10 commandments given to the Israelites. The ruler said he had been following all those from his youth.
When Jesus told him to sell whatever he had and give them to the poor, perhaps He was pointing to the shape of things to come in the Apostolic age. In Acts 4:34-35 we read: 'for all who were possessors of lands or houses sold them, and brought the proceeds of the things that were sold, and laid them at the apostles' feet; and they distributed to each as anyone had need.'
It is mentioned twice that the disciples of Jesus were astonished at what Jesus told the rich young ruler.
And the disciples were astonished at His words (24th verse)
And they were greatly astonished, saying among themselves, "Who then can be saved?" (26th verse).
They were astonished because the Jews believed riches and wealth came from God (Pro. 10:22; Pro. 15:6; 1 Sam 2:7). And, they were shocked at what Jesus had just said.
Twice in that passage (Mark 10), Jesus said: "How hard it is for those who have riches to enter the kingdom of God!" Children, how hard it is for those who trust in riches to enter the kingdom of God!"
Jesus was not saying the rich will not enter the kingdom of God, only it would not be easy for them.
In other words, Jesus was telling the rich young ruler to count the cost of following Him. – the cost of discipleship was a huge price to give.
And, hence the disciples asked Jesus: '"Who then can be saved?'
Jesus' reply was both reassuring and revealing: 'With men it is impossible, but not with God; for with God all things are possible.'
We are saved by grace (Eph. 2:5). We are saved by grace through faith (Eph. 2:8).
The plan of salvation is simple.
The four steps to salvation:
Hear the Gospel (Eph. 1:13)
Believe Jesus with all your heart (Rom. 1:16)
Repent for your sins (Acts 3:20)
Call on the name of the Lord (Rom. 10:9-10).
May the grace and mercy of Jesus Christ, the Lord our God, be with you all. Amen. Hallelujah!