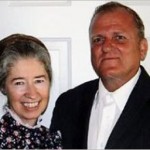 AUTHORITIES in the US and Mexico are investigating the killing of an American missionary in Mexico, even as mission groups in Texas are re-evaluating the risks of working in the country.
According to reports, 59-year-old Nancy Davis had ministered in Mexico for 40 years. Her husband said they were about 70 miles south of the border when gunmen in a pick-up truck tried to stop them. When Davis sped up, they opened fire, wounding Nancy in the head.
"The gunshot wound would have happened in the interior of Mexico as they traveled from Mexico towards the United States," Pharr, Texas Police Chief Ruben Villescas said.
Authorities said the shooting happened in one of the most dangerous areas of the country. The area is controlled by the Zetas drug cartel, a fact the Davises probably knew already.
Friends said they spent a lifetime in Mexico helping start new churches.  The slain missionary's son said his mother died doing what she loved.
"Time after time, what made her the happiest was seeing somebody hit their knees and come up forgiven for whatever they've done – murder, rape, the smallest sin," he said. "She'd come home so happy. She'd say: "Well, we stole another one from the devil today'."
Reports quoted mission groups in south Texas as saying Nancy's death is yet another wake-up call to the dangers of ministry in Mexico, and they are re-assessing their travel policies.
After the shooting, Davis said he drove to the border at top speed to outrun the gunmen. His wife died of her wounds about an hour later in a south Texas hospital.