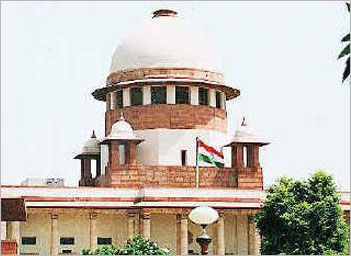 THE Supreme Court today expunged its controversial remarks in the Graham Staines killing case.
This move by the country's highest legal body comes after the Supreme Court's observation that the killers of Graham Staines and his two minor children intended to teach the Australian missionary a lesson for preaching and practicing conversion came under attack by leading editors, media groups and civil society members from across India.
The remark expunged was made by the Supreme Court in its Jan 21 judgment that held life sentence for Dara Singh. It now stands deleted.
The court has also withdrawn the term conversion and said there is no justification to interfere in someone's belief by any means.
While upholding the life sentence awarded to Bajrang Dal activist Dara Singh for the 1999 killings, a Bench had said: "In the case on hand, though Graham Staines and his two minor sons were burnt to death while they were sleeping inside a station wagon at Manoharpur, the intention was to teach a lesson to Graham Staines about his religious activities, namely, converting poor tribals to Christianity."
Media groups, editors and members of civil society had in their signed statement taken strong exception to the Supreme Court's observation and said the remarks were 'gratuitous' and 'unconstitutional' and went against the 'freedom of faith' guaranteed by the Constitution.
"Did the Supreme Court ever take into consideration the report of the Wadhwa Commission which was set up to probe the murder of Graham Staines and which had observed, "There has been no extraordinary increase in the Christian population in Keonjhar district between 1991 and 1998. The population had increased by 595 during this period and this could have been caused by natural growth'."
The statement said the SC ruling may in fact "send the wrong signals to courts trying cases of religious violence in Kandhamal, for instance, and in other places. It also tends to preempt possible challenges to the black laws enacted by many states in the guise of Freedom of Religion Bills."
"We ask the SC to expunge the unnecessary, uncalled for and unconstitutional remarks," the statement had said.
The statement was signed among others, by editorial representatives from The Hindu, The Indian Express, The Times of India, Hindustan Times, The Pioneer and The Telegraph besides over 50 journalists from across India.
Related stories:
No bitterness towards the killers: Gladys Staines
Graham Staines killer Dara Singh gets life sentence