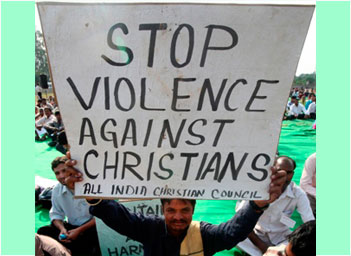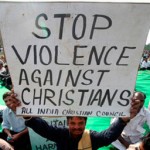 RELEASE International has come up with its report on likely persecution hotspots for Christians in 2012. And topping the list are China and North Korea, the two Communist countries which top most persecution lists.
Release partners also foresee worsening persecution in Pakistan, India, Iran, Central Asia and Nigeria – where scores of Christians were killed and injured in Christmas bomb attacks.
In the latest edition of Release magazine, the report has warned that a growing number of Christians are likely to be imprisoned for their faith in 2012.
North Korea could face a power struggle as leadership transitions to the youthful Kim Jong-un. Release has been receiving reports that Christians are already coming under increased suspicion in a land where they are regarded as potential opponents and can be sent to camps for political prisoners.
And in China, Release's partner warns the authorities may tighten their grip on Christians and all potential dissidents in the run-up to the transfer of power to new leadership later in the coming year.
"Religious freedom conditions are at their lowest point since 1982," says Bob Fu of China Aid. Hotspots include Henan, Anhui, Shandong, and the capital Beijing.
According to the report, the Chinese authorities are also considering legalizing the detention of people considered a threat to national security. That would put at risk lawyers and Christians campaigning for human rights.
Even before such a law is passed, observers say there are now more people in prison in China for alleged 'political crimes' than at any time since the Tiananmen Square massacre in 1989, when tanks crushed the pro-democracy movement.
Elsewhere a worrying trend is the call to take action against those considered guilty of 'apostasy' – changing their faith. This is gaining momentum in the Islamic and Hindu worlds. It also impacts evangelists and religious believers who speak about their own faith to people of other religions.
In Iran, key religious leaders have spoken against the spread of Christianity, which is regarded as a threat to the Islamic revolution. Release partners say government tactics against Christians include phone tapping, persuading family members to spy on one another, and the expulsion of Christians from universities and jobs. Christians have also been arrested, beaten, imprisoned and killed.
In Morocco and Algeria Christians have been accused in recent months of taking part in activities to 'shake the faith of Muslims.' And in Central Asia, including Kazakhstan, Tajikistan, Turkmenistan and Uzbekistan, new laws are being introduced to restrict religion and require new churches to register and come under state control.
Those that cannot in all conscience submit to the control of a hostile state face being driven underground and operating illegally – much as happened in the former Soviet Union, and still takes place in China, Vietnam and Laos.
In Pakistan, radical Islam is spreading. The Pakistan Taliban have murdered public figures who have called for the repeal of the country's notorious blasphemy laws. Release partners warn, 'the persecution of Christians is increasing day by day.'
In Nigeria, militants targeted churches at Christmas for the second year running in bomb attacks. Boko Haram are calling for an end to democracy in Africa's most populous nation and the imposition of strict Islamic law.
Christians continue to come under attack in the north, where they are in a minority, and in PlateauState, which is the dividing line between the mainly Muslim north and largely Christian south. Release partners believe militants want to create a breakaway Islamist North Nigeria.
They report: 'In 2011 more than 500 Christians were killed in central and northern Nigeria, over 4,000 Christian houses were burnt or destroyed, and over 4,000 Christian businesses were attacked and looted.'
In India, the general secretary of the Vishva Hindu Parishad (VHP) has called for a new constitution allowing 'anyone who converts Hindus to be beheaded.' Such extremism is indicative of a growing hostility towards Christians and Christian witness in India.
Increasingly, pastors stand accused of converting Hindus by force, charged under anti-conversion laws which are being interpreted as outlawing evangelism and even charitable works, considering relief aid to be a form of bribery.
Even in Buddhist nations Christians face violent persecution. The Burmese military promote Buddhism as a means of unifying the nation and have been waging war against ethnic groups, some of whom are Christians.
In Sri Lanka nationalists are opposed to Christianity, which they regard as a foreign import. Release partners say, 'Since September 2011, all places of worship must obtain permission. Those that do not are regarded as illegal. Christians continue to face violence, assault, arson, demolition of churches, mob attacks and protest marches.'
Andy Dipper is the CEO of Release International, which supports persecuted Christians worldwide. He says: 'Across the world, the number of Christians imprisoned for their faith looks set to increase in 2012.
'In the new year please make it a priority to pray for members of our Christian family who face persecution and offer your practical support. The economic climate may be getting harder in the UK, but we still have our freedom. And that includes freedom to pray, support and speak out for our brothers and sisters who are suffering for their faith.'
Through its international network of missions Release International serves persecuted Christians in 30 countries around the world by supporting pastors and Christian prisoners and their families; supplying Christian literature and Bibles, and working for justice.