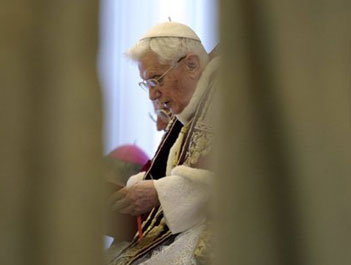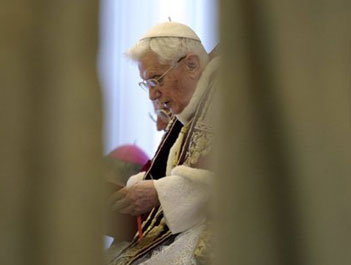 POPE Benedict surprised the world on Monday by saying he no longer had the mental and physical strength to cope with the demands of his ministry, becoming the first pontiff to step down since the Middle Ages and leaving his aides "incredulous".
The 85-year-old German-born Pope, hailed as a hero by conservative Catholics and viewed with suspicion by liberals, said he had noticed that his strength had deteriorated over recent months.
A Vatican spokesman said the Pope had not resigned because of "difficulties in the papacy" and the decision had been a surprise, indicating that even his closest aides were unaware that he was about to quit. The Pope does not fear schism in the Church after his resignation, the spokesman said.
The Pope's leadership of 1.2 billion Catholics has been beset by a child sexual abuse crisis that tarnished the Church, one address in which he upset Muslims and a scandal over the leaking of his private papers by his personal butler.
In a statement, the pope said in order to govern "…both strength of mind and body are necessary, strength which in the last few months, has deteriorated in me to the extent that I have had to recognize my incapacity to adequately fulfill the ministry entrusted to me.
"For this reason, and well aware of the seriousness of this act, with full freedom I declare that I renounce the ministry of Bishop of Rome, Successor of Saint Peter."
Before he was elected Pope, the former Cardinal Joseph Ratzinger was known by such critical epithets as "God's rottweiler" because of his stern stand on theological issues.
But after several years into his new job he showed that he not only did not bite but barely even barked.
In recent months, the Pope has looked increasingly frail in public sometimes being helped to walk by those around him.
A Vatican spokesman said the pontiff would step down from 1900 GMT on February 28, leaving the office vacant until a successor was chosen to Benedict who succeeded John Paul, one of history's most popular pontiffs.
Click here to read the original report on Yahoo! India