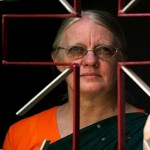 GLADYS Staines, wife of Australian missionary Graham Staines, who was burned to death along with their two sons in Orissa over a decade ago, has said she holds no bitterness towards the killers.
In an email interview to the Press Trust of India, she said: "Because of forgiveness, I hold no bitterness towards the persons who killed my family."
On Jan 21, the Supreme Court of India ruled that the crime was not 'the rarest of rare' and upheld the life sentence awarded to Dara Singh and Mahendra Hembram, the convicts in the case.
"Forgiveness is needed to check hatred and violence…God forgives but the earthly consequences of that sin continue…Forgiveness does not change the consequences for the wrong. (The two) should not be mixed up," she said.
However, she clarified that forgiving did not mean that the normal judicial process should not be followed.
Gladys Staines is currently living in Australia with her daughter and father. She said she would continue to serve the needy as was desired by Graham Staines.