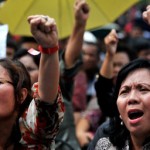 HARDLINE Muslim demonstrators disrupted Sunday worship of a church in Bandung and chased over 100 Christians out of the building.
About 200 demonstrators belonging to Islamic Defenders Front, the Indonesian Ulama Forum and the Islamic Reformist Movement arrived with the Civil Service Police Unit of Rancaekek district and sealed the house where worship was being held on Dec 12, according to Compass Direct News service.
The demonstrators reached the Huria Kristen Batak Protestant Bethania church building where a pastor and his family live. The Islamic fundamentalists urged the police to seal the building alleging that it was registered as a private house and could not be used a place of worship.
Even as worship service was on the demonstrators forcibly removed over 100 members of the church, the pastor Rev Badia Hutagalung said. He said the building was used to hold worship as the church was unable to obtain permission to establish a church building under conditions imposed by Indonesian law.
According to tough local laws, approval of at least 60 persons from the local community besides the village head is required to start a religious worship session in a place. The law also requires that there must be at least 90 members belonging to the church that seeks permission to start a worship place.
CDN reported that several other churches functioning from homes have been closed down due to protests by Islamic fundamentalists. On Dec 12 alone, as many as five churches were disrupted and sealed by the protestors. Indonesian Christian Church, a Catholic church and the Ecumenical Christian Church were among those sealed by them.