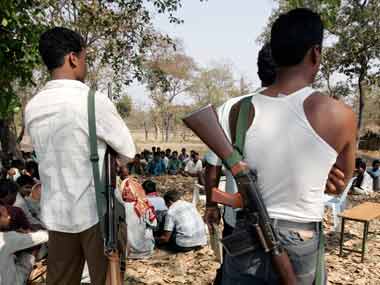 FIVE Naxals, accused of murders and attack on police party, have been arrested during an operation by police and BSF jawans in Chhattisgarh's Kanker district.
"The wanted cadres were arrested during the operation conducted by police and Border Security Force (BSF) jawans at Enhur village in the district on Sunday,"Deputy Superintendent of Police (DSP) M Z Baig told PTI over phone.
The arrested were identified as Bodhram (55), Suderam Netam (45), Narayan Nareti (45), Pyarelal Jain (40) and Maniklal Nareti (25), he said.
The accused were involved in a number of crimes ranging from murder, arson, attack on police party and loot in the region and the cases against them were lodged at Siksor and Durgkondal police station, the DSP said.
"The four elderly ultras were active in the Naxal movement since 1998 and were hardcore members," he said adding their arrest can be termed as a big success for security forces.
The search party was on area domination operation since the last three days in the forests of restive Manhakal, Manjhikursubodi and Enhur village of the region.
After getting a tip-off about their presence in Enhur village, the team rounded them up, he said.
Interrogation of the arrested Naxals is still on, the DSP added.