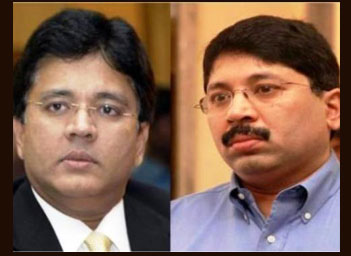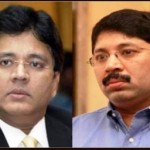 THE CBI filed an FIR against Dayanidhi Maran, Kalanidhi Maran, Ralph Marshall and T Anant Krishnan on Sunday, under the Prevention of Corruption Act.
Last month, the country's apex investigating agency told the Supreme Court that it planned to file a formal case soon against former minister Dayanidhi Maran for misusing his office when he was telecom minister.
News reports said the homes and offices of  Maran brothers – Dayanidhi and Kalanidhi – were raided today early morning in New Delhi, Hyderabad and Chennai in connection with the Aircel-Maxis deal.
The raids were in progress at his Boat Club residence in connection with the Aircel Maxis deal that landed Maran in trouble, compelling him to quit his post in the Union Cabinet, reports quoting sources said.
According to CBI spokesperson Dharini Mishra, the investigating agency "has registered case against Maran brothers, Ralph Marshall and T Anandkrishnan and three companies under section 120b of IPC read with 13(2) with 13 (1)(d) and also section 7 and 12 of the Prevention of Corruption Act. Case was registered on October 9. Searches were conducted at Delhi and Chennai."
The CBI has also asked the telecommunication department to provide them with technical details of the telephone lines connecting Sun TV office from Maran's residence.
According to news reports, as many as 323 residential lines were in the name of BSNL general manager allegedly connecting the Boat House residence of Maran with the office of Sun TV through a dedicated underground cable during Maran's tenure as Telecom Minister.
The CBI also conducted raids at Apollo Group's Sunita Reddy's residence. However, Reddy has not been named in the FIR.
It has been alleged by former Aircel Chief C Sivasankaran that Maran as the then Telecom Minister favoured Maxis-group in the takeover of his company and in return investments were made by the company through Astro network in Sun TV owned by Maran family.
The CBI, in its recent status report to the Supreme Court, had said that during Maran's tenure there was 'deliberate delay' to provide letter of intent to Sivasankaran.
The agency had said that after Aircel was sold to Maxis investments were made by the Malaysian firm into the family business of Marans.
Former aides of Maran had reportedly told CBI that the processing of the files of Sivasankaran was delayed allegedly at the direction of the minister, agency sources claimed.
Maran had, however, refuted the allegations.
Read latest Christian news headlines
Track The Christian Messenger on Facebook | Twitter