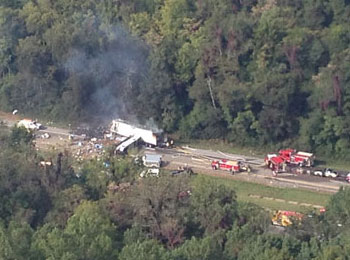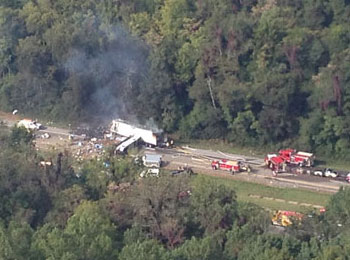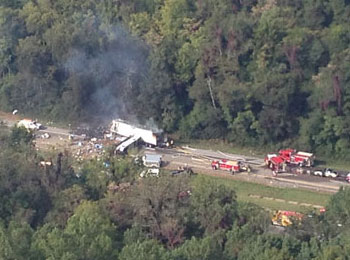 EIGHT people were killed, 14 injured Wednesday afternoon in a crash involving a church bus on Interstate 40 in Jefferson County.
The crash was reported around 2 p.m. at mile marker 422 involving three vehicles: a tractor trailer carrying paper products, a church bus, and a white SUV.
Officers say the bus was traveling eastbound when its front left tire popped, causing the bus to travel across the median and strike a tractor trailer and an SUV that were traveling westbound.
The tractor trailer caught fire and the bus overturned.
Truck driver Charles Ragan witnessed the crash.
"This is the first scene that's bothered me that bad, and I've seen them all. So I've cried. I've been here since 2 o'clock,a nd I've cried and I'll cry again. I'm about to cry now. But it's a bad thing," he said.
Tennessee Highway Patrol spokesperson Dalya Qualls says eight people died in the crash: six were on the bus, one in the tractor-trailer, and one in an SUV.
Fourteen people were injured. Four were flown to area hospitals, eight were transported by ground, and two were not transported.
As of 7 p.m. Wednesday, eight surviving victims were in critical condition, two in serious condition, and four in stable condition.
Jefferson County EMA Director Brad Phillips says no children were involved in the crash.
Three people were in the SUV, one person in the tractor-trailer, and 18 people were on the bus from Front Street Baptist Church in Statesville, N.C.
Pastor's wife Dionne Stutts told ABC affiliate WSOC the bus was carrying senior adult church members.  They were on their way home from an event called the Fall Jubilee in Gatlinburg. Church pastors say they are on the way to the area.
Jubilee Conferences issued the following statement: "Our thoughts are with our friends at Front Street Baptist Church in their tragic loss. Pastor Johnny Hunt, the congregation at First Baptist Church Woodstock, and all the Jubilee team have you in our prayers."
If you believe you have an immediate family member in the crash, you can call the American Red Cross at (865) 305-5716 for assistance.