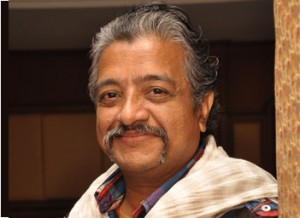 By Robin Sam
HIS parents were a great influence in Johnny Ramesh's life. The Johnny-Ruby couple were teachers who brought up their children in the fear of the Lord. Ramesh was born as the last of their four children. Thanks to a strict Pentecostal upbringing, viewing films was considered anti-Christian in their family. However, when he got into college Ramesh made up for all that: he frequented cinema halls along with his friends and made sure he watched every film that was released first day, first show. After college, Tamil film director Selva, with whom he was acquainted during his college days, invited him to join the film industry. Ramesh became his assistant and helped him in several films. Although his mother took to fasting and praying for her son to quit films, his dad's advice not to let the world influence him wherever he was and whatever he did encouraged him. Even as he worked as an assistant at ELCOT, a Tamil Nadu government promotional agency for IT the industry, his heart lay in films. Finally, he quit ELCOT after 12 years of service. However, he did not disclose it at home for almost five years for fear that it will be the end of his film career. In 2000, he branched out as an independent filmmaker. By his own admission, the first film that he independently directed, 'Kalalpadai', was a 'super flop.' Thereafter, although he turned his attention to TV serials, success continued to elude him. In the meantime, couple of accidents that incapacitated him for six months each made him introspect on life, the purpose of his existence and God's will for his life. Slowly, he realized God took him to the film industry to help him learn the craft and be a witness for His Name by making celluloid creations that talk about God's outrageous love. Till date, Ramesh has done a few TV serials, a 2 ½ hour film on father-son relationship for Polimer TV, eight short films on AIDs, eye donation, child labor and other social issues besides four Christian films, 'Saathanin Thandhirangal', 'Vedha', 'Vaasam' and 'Nesam'. While 'Vedha' fetched him the best director award from Galilean International, Mumbai, 'Nesam' has received critical acclaim from both the laity and the clergy. The Christian Messenger met him for a free-wheeling chat. Excerpts from the interview:
What is 'Nesam' all about?
'Nesam' is based on Mark 12:31 where Jesus tells a teacher of the law about the most important commandment. It is produced by Prime Force Academy. This film was shot within a budget of four lakh rupees in five days. You could be a Christian who lives by Biblical principles but if you do not love others as you love yourself you have to admit that you are just doing religion. Yes, you may have followed all the commandments of God but if you have overlooked God's grace and not shown mercy to others then we are Christians only in creed and not in deed. 'Nesam' is about how exhibiting Christian love in practical ways can be a greater evangelistic effort than anything that we say or think.
You have done four Christian films so far. How rewarding an experience was it?
If you meant monetary rewards, then I am yet to make money from any of my four Christian ventures so far. For instance, I spent one lakh rupees out of my pocket to film 'Vaasam' based on 1st Corinthians 13. The film was appreciated but I am yet to recover the money spent on it. In fact, my outing in the Christian world has taught me that there are very few mission-minded Christians around us. Even those who claim to support us only have business motives in their mind. They are always thinking about their profit and return on investment. They have blurred the line between business and ministry. It's difficult to work with such people, but then do filmmakers like me have an option? After doing one particular Christian film, I was so bitter about the way things turned out, that my health deteriorated. I was utterly humiliated leave alone being rewarded for my efforts. I suffered from sleep disorder and had to go to a 3-day healing retreat in Bangalore to get over the hurts and bitterness in my heart. God taught me that I cannot be His servant by being bitter about people.
How did you generate the funds for making 'Nesam'?
The rich Christians I approached in the hope of generating funds to produce 'Nesam' turned me down but someone who has not yet accepted Jesus as his Savior, agreed to help me the moment he heard the script. I am thankful to Mr. Duraipandian Gnanasundaram, founder-president of Prime Force Academy. Professional Christian filmmakers are a rarity in India. That's the reason why I appeal to the Christian community to encourage people like me.
Did you approach the Christian TV channels?

Christian TV channels are run by a few families in Tamil Nadu. They seem to be running their channels either to propagate their own views or to promote the works of their wives and children. They are not interested in taking up anything that comes from outside their family or clique. The same is the case with our Christian leaders. It's very difficult to meet them. You have to go past several layers before you can gain access to them. Jesus Christ was accessible to people in His time but our leaders are mostly inaccessible.
How was the experience of working with Vadivukkarasi?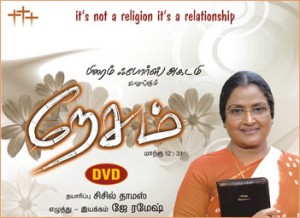 As an associate director, I have directed her even earlier in Tamil films. She is an excellent actor and a senior artiste. I had her in my mind even when the character of Grace amma was conceptualized for 'Nesam'. Several people who knew of the casting asked me if she would be the ideal fit for the character. I told them to wait until the film was completed. She has done a terrific job in the film. But one day she lost her cool and flared up in the sets. She thought I was singling her out for retakes. By God's grace, I was able to explain what I wanted and defuse the situation. I am sure the film and the character she played touched a chord in her. She refused to accept her remuneration for the film despite repeated requests. She did not even take one rupee for acting in the film.
Watch trailers of Nesam | Vedha |
(The filmmaker can be reached at 0-9841053626 or rameshaction [at] gmail [dot] com)
Read latest Christian news headlines | More  interviews
Track us on Facebook | Twitter