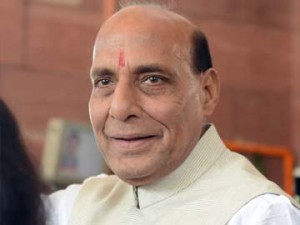 INDIA'S security ties with Israel, including cooperation in counterterrorism, are expected to receive a major fillip during home minister Rajnath Singh's visit to Jerusalem.
Rajnath Singh was scheduled to arrive here on Wednesday morning but had to reschedule his plans after his flight from Monaco was cancelled due to stormy weather. The minister was in Monaco to attend Interpol's general assembly.
Despite the unexpected change in plans, the Israeli government has gone out of the way to accommodate the Indian home minister and the Prime Minister Benjamin Netanyahu's office was quick to reschedule his meeting with the premier for Thursday.
"India is a very important ally for us and we view the home minister's visit as very significant. We are looking forward to fruitful discussions that will strengthen cooperation between the two countries", a senior government source told PTI.
Rajanth Singh was scheduled to meet Israeli President Reuven Rivlin, Premier Netanyahu and defence minister Moshe Ya'alon on Wednesday in a rare gesture reserved for leaders from most friendly or strategic countries.
It will be the first visit of an Indian home minister to Israel since June 2000 when LK Advani visited Jerusalem, marking an upsurge in bilateral cooperation.
The home minister's visit comes close on the heels of Prime Minister Narendra Modi's meeting with Netanyahu on the sidelines of the UN general assembly in New York.
During that meeting, Netanyahu had said that "sky is the limit" in terms of prospects of cooperation between the two countries, seeking "greater and greater" ties with India.
Netanyahu was among the first global leaders to call Narendra Modi to congratulate him on his victory in the general election.
Singh will also be meeting Israel's minister of public security, Yitzhak Aharonovich, and national security adviser, Yossi Cohen, who would accompany him on a helicopter tour of bordering areas.
India and Israel have signed three agreements related to homeland security which covers important areas such as cooperation in preventing organised crime, human trafficking, cyber crimes, money laundering, counterterrorism and fight against spread of fake currency notes.
India and Israel will also render mutual legal assistance in criminal matters and have committed to the protection of classified material and information.
The joint steering committee on homeland security set up to coordinate and direct cooperation between the two sides met in September for its first deliberations.
Cohen last month met Rajnath Singh, his Indian counterpart Ajit Doval, and senior diplomats at the ministry of external affairs in New Delhi to discuss "common challenges" faced by the two countries and their solutions, emphasising his country's "willingness to expand cooperation in all fields and in any level".
India is Israel's largest purchaser of defence equipment and the Jewish state is the second largest supplier of arms and armaments to New Delhi, next only to Russia.
Singh will try to impress upon Israeli defence industries to take advantage of the new policies to manufacture in India as per Modi's 'Make in India" initiative and assure Israeli manufacturers of a simple regulatory framework to obtain clearances within a given time frame.
BJP's elevation to power has generated a lot of enthusiasm here, amid a flurry of activities, raising hopes that relations would reach a "new high" as seen during the previous NDA government led by Atal Behari Vajpayee. PTI