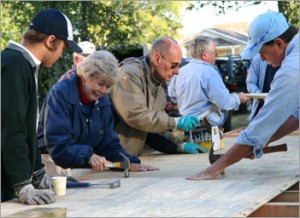 FOR about 1,700 years, "going to church" has mostly meant warming the pews.
On Sunday, however, five congregations in Lower Bucks County are not going to church at all.
"They're being the church," said the Rev. Douglas Hogland, pastor of Woodside Presbyterian Church in Yardley and organizer of the second annual "Living Outside the Box" day of service.
Woodside and four other Protestant churches in Yardley and Newtown have canceled their morning worship services so members can devote themselves to more than two dozen projects.
"We're doing service rather than having one," Hogland said.
Activities will include construction of a shelter at a homeless camp, cleanup at a nature center, improvements to an elderly man's house, corsage-making at a nursing home, and Habitat for Humanity home construction.
Most participants will work around Lower Bucks, but some will travel to Trenton or Philadelphia. A few will even pick up fallen apples, to be donated to food pantries.
Hogland said he doesn't know how many volunteers from the churches will turn out, but last year's Living Outside the Box – solely a Woodside Presbyterian event – drew 300 of its 625 members.
Participants were so enthusiastic, Hogland said, that they decided to do it again this year and invited all of the local Christian houses of worship to join in. They are Anchor Presbyterian in Newtown; Northampton Presbyterian in Holland; United Christian Church in Levittown; and Yardley United Methodist. St. Ignatius Roman Catholic Church in Yardley is not canceling Masses, but some parishioners are participating.
"The idea is that the (church) building is the box," Hogland said. "Our feeling is that Jesus wants us to live our faith outside the building."
The day's playful slogans ("Inside Out" and "The Church Has Left the Building") mask a serious question about whether the traditional way of "doing church" – gathering in pews for prayer, song, and sermon – will endure. Hogland noted that some national surveys report that today's young adults are less inclined to identify with religious denominations or join congregations.
"By some key measures, Americans ages 18 to 29 are considerably less religious than older Americans," the Pew Forum on Religion and Public Life reported last year.
This report was first published in Philly
Get the latest news from India | Read latest Christian news headlines
Track The Christian Messenger on Facebook | Twitter