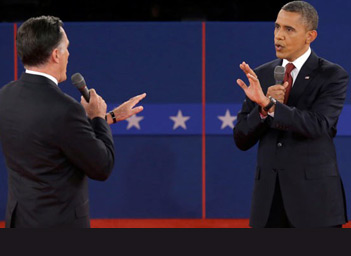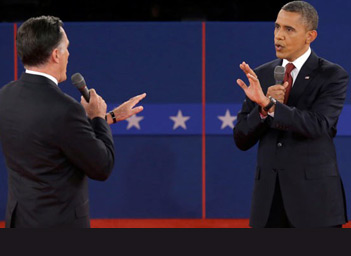 US President Barack Obama on Wednesday scored a clear victory over Mitt Romney in the high-stake second presidential debate, putting up a combative performance as he slammed his Republican presidential rival on issues like outsourcing and Libya.
As Obama faced-off Romney in a town hall debate at Hofstra University in Hempstead, he was under intense pressure to improve upon his lacklustre performance at the first debate in Denver on October 3 when Romney had edged past him with a more aggressive and spirited performance.
Obama did not repeat the mistakes he made in his first debate, aggressively hitting back at Romney on tax plans, outsourcing and his controversial remark that 47% of Americans did not pay income taxes.
According to a CNN/ORC nationwide poll conducted right after the debate, 46% of voters declared Obama the winner while 39% said Romney fared better.
A CBS News instant poll said Obama edged Romney for a win in the second presidential debate. About 37% of voters polled said the president won, 30% awarded the victory to Romney while 33% said Obama and Romney were tied.
During the debate, 55% of voters said Obama gave direct answers, while 49% said the same about Romney.
On who did a better job of handling the economy, 34% said the president would better handle the economy, with 65% saying Romney would. The CBS survey polled 525 voters who are undecided or who may still change their minds.
An online poll by Google Consumer Surveys gave Obama a 48% lead over Romney's 31%.
"I hope you saw exactly what's at stake in this election. This race is neck and neck. What happens in the next three weeks will determine which side wins," Obama told his supporters in an email soon after he left New York after participating in the debate.
While there was no immediate comment from Romney, his vice presidential running mate Paul Ryan claimed that the Republican presidential candidate showed to the American people the clear choice they have on November 6.