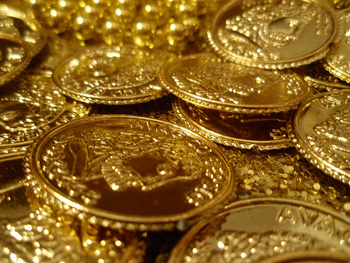 By Robin Sam
BLESSINGS! Who does not want them? Who has enough of them? Men and women all around the world yearn for them whether or not they know and serve the Living God. Oftentimes, quantity is the yardstick to measure a man's riches. To most of us, blessings mean riches, wealth, honor, influence and power. What people (Christians included) do not realize is that health, peace, contentment and purpose of life also constitute God's blessings. When we see a handsome man driving around in a swanky, new car with a svelte woman by his side most of us will immediately label him as one who has made it big in life. While some of us may even envy his success only a few would move on without being jealous of the man, lustful of the woman or judgmental about them.
The dictionary defines blessing as 'a thing that is conducive to happiness.' The Bible, however, sees blessing as God's favor, protection and provision.
King David knew this. That's why he said in 1 Chronicles 29: 12, 'Both riches and honor come from You, and You reign over all. In Your hand is power and might; in Your hand it is to make great and to give strength to all.' David said what he knew as true. And at his death, the writer of the book of Chronicles recorded this statement about King David, 'So he died in a good old age, full of days and riches and honor…' (1 Chronicles 29:28). He wrote what he knew as true about David.
If David had died young albeit with riches and honor he would not have been considered as a 'blessed man.' So riches and honor alone don't constitute blessings. A long and fruitful life also counts.
God is the wealth-giver. He alone knows how to make you rich and prosperous. Proverbs 10:22 says, 'The blessing of the Lord makes one rich…'
David's son Solomon also must have somehow known this truth. That's why he was careful to ask for wisdom and knowledge on the night when God appeared to him and said to him, 'Ask! What shall I give you?' (2 Chronicles 1:7). Solomon asked for wisdom and knowledge but look what God gave him. God told Solomon: '…wisdom and knowledge are granted to you; and I will give you riches and wealth and honor…'
However, riches are not all. We all know of several rich people around us who are besieged by tax woes, disobedient children, rebellious workforce, unfaithful spouses, festering wounds or incurable diseases. That's why Proverbs 10:22 says, 'The blessing of the Lord makes one rich, and He adds no sorrow with it.'
We find the first instance of the word 'bless' used in the Bible in Genesis 1:22. The Hebrew word for bless used here is 'barak' and it simply means praise, compliment or congratulate. God used the word 'barak' to bless the sea creatures, winged birds and every living thing that moves – in short the abundance of living creatures. The second time God used the word was when in Genesis 1:28. This time, God said, "Be fruitful and multiply; fill the earth and subdue it; have dominion over the fish of the sea, over the birds of the air, and over every living thing that moves on the earth." Although God used the same word 'barak' to bless both animals and man, the dominion and the dimension of the blessings that He gave Adam and Eve changed vastly in that they would rule over everything on the earth.
There is another Hebrew word for blessing – 'esher'. The word 'esher' means happiness. This blessing of happiness is connected to the knowledge that God is at work in our lives and He directs our paths and orders our steps. It is this 'esher' (happiness) that is the blessing in operation in Job 5:17, 'Blessed is the man whom God corrects; so do not despise the discipline of the Almighty.' It is the same blessing that is in operation in the man 'who does not walk in the counsel of the wicked or stand in the way of sinners or sit in the seat of mockers. But his delight is in the law of the LORD, and on his law he meditates day and night. He is like a tree planted by streams of water, which yields its fruit in season and whose leaf does not wither. Whatever he does prospers.' (Psalm 1:1-3).
In the New Testament, there are two Greek words used synonymously with blessing. The first word is 'makarios'. It is a blessed state of affairs in the life of one who has found his purpose, meaning and fulfillment in Jesus Christ. When our Lord made the Sermon on the Mount, He set out what we call as the beatitudes mentioned in Matthew 5 and Luke 6. In what seems like a contradiction of sorts, Jesus clubbed the poor in spirit with the Kingdom of Heaven, hunger with satisfaction, weeping with laughter, hate with love, and curse with blessing.
You may not be rich by the standards of the world, yet you are rich if you are rich toward God. That's why Jesus asked His disciples to 'Take care, and be on your guard against all covetousness, for one's life does not consist in the abundance of his possessions' (Luke 12:15). To explain this truth, He told His disciples what is known as the parable of the rich fool. 'The land of a rich man produced plentifully, and he thought to himself, 'What shall I do, for I have nowhere to store my crops?' And he said, 'I will do this: I will tear down my barns and build larger ones, and there I will store all my grain and my goods. And I will say to my soul, "Soul, you have ample goods laid up for many years; relax, eat, drink, be merry."' But God said to him, 'Fool! This night your soul is required of you, and the things you have prepared, whose will they be?' So is the one who lays up treasure for himself and is not rich toward God."
The other word used for blessing in Greek is 'eulogio'. The English word 'eulogy' meaning 'a speech or piece of writing that praises someone or something highly, typically someone who has just died' comes from this Greek word. Eulogio is a good report; a testimony given posthumously. This word is also used to explain the condition of a person whose sins are forgiven. Romans 4:7-8 says, 'Blessed are those whose lawless deeds are forgiven, and whose sins are covered; Blessed is the man to whom the Lord shall not impute sin.' Eulogio also refers to the blessing that we say over our food. It is used in Matthew 26:26, when 'Jesus took bread, and after blessing it broke it and gave it to the disciples, and said, "Take, eat; this is my body."' It's the same Greek word that is used to bless God the Father in Ephesians 1:3, 'Blessed be the God and Father of our Lord Jesus Christ, who has blessed us with every spiritual blessing in the heavenly places in Christ.' Apostle Peter used the same word 'eulogia' in 1 Peter 3:9 where he exhorted the disciples of Christ to 'bless those who mistreat us, because we were called to receive a blessing from God.'
Christians are called not to seek the world's riches. True, we all need money to meet our needs and Jesus has already promised to meet them.
Our God has not only promised to meet our earthly needs, He has also decided to give His children enduring riches and righteousness (Proverbs 8:18).
Proverbs 22: 1 asks us to choose a good name rather than great riches, loving favor rather than silver and gold. Proverbs 23:5 asks us a vital question and gives us a perspective of earthly wealth: 'Will you set your eyes on that which is not? For riches certainly make themselves wings; they fly away like an eagle toward heaven.'
The one who accumulates wealth really does not know who will gather them after him (Psalm 39:6). He is like the one who goes about like a shadow and busies himself in vain.
The Bible says that the ungodly increase in riches (Psalm 73:12). Believers need not be terrified of those who become rich because when the rich man dies 'he shall carry nothing away; His glory shall not descend after him' (Psalm 49:16,17). The challenge before the children of the Living God is to be contented in the little that he has (Psalm 37:16).
Jesus Himself said it is difficult 'for those who have riches to enter the kingdom of God!' (Mark 10:23).
If you are a child of God, you need to count on Him to meet your needs. If you lean on Him for fulfilling every one of your needs – physical, material, emotional, intellectual, spiritual and eternal – then you can begin to pray like Agur: 'Remove falsehood and lies far from me; Give me neither poverty nor riches— Feed me with the food allotted to me' (Proverbs 30:7,8).
The Bible talks about fullness of the blessing. However, that is not a blessing that many of us dream of or even remotely familiar with. It is 'the fullness of the blessing of the Gospel of Christ' that Paul talks about in Romans 15:29. Fullness of the blessing of the Gospel is all about boldness of spirit, signs and wonders in one's life and ministry, manifestation of the power of God by His Holy Spirit, freedom of speech and a territory enlarged by God to implement His divine will. It is full of grace and truth. It is full of the exceeding great and precious promises that we have in Christ not only for this world but for the one that is coming too. The fullness of the blessing of the Gospel of Christ is promised only to those who have accepted the Gospel of Jesus Christ and allowed Christ to fashion themselves after Him every day while they were on the earth.
The English word 'blessing' comes from the German word 'bletsian'. Bletsian means to bless or consecrate or make something or someone hallowed with the sprinkling of blood. In the Old Testament days, blood of the animals was shed for the atonement of one's sins. In the New Testament days, however, we have a much more precious blood that has been shed for us at the Calvary – the blood of our Lamb Jesus Christ slain from the beginning of the world (Revelation 13:8).
All the riches in Christ are reserved for those who offer their bodies a living sacrifice, holy and acceptable to God. They are the ones who do not conform themselves to the world but are transformed by the renewing of their mind to prove what is that good and acceptable and perfect will of God (Romans 12:1,2).
True blessing is to count on Jesus Christ for our earthly and eternal blessings – now and forever.