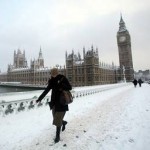 CONTINUED heavy snowing in Europe that forced several big airports to close and threw air traffic out of gear has also dampened the Christmas holiday mood across the continent.
Flights were canceled in London, Paris, Frankfurt, Amsterdam and Brussels even as airports warned of backlogs spilling into this week.
Weather forecasters have already predicted that this month could be the coldest December for a century.
Around 1,500 people were forced to spend a night at Brussels airport due to flight cancellation because of heavy snowing. A day earlier, up to 3,000 people slept at the airport as their flights were cancelled or rescheduled.
In Italy, the situation was said to be improving after two days of chaos.
In the Balkans, four people froze to death over the weekend. Two men, aged 72 and 50, were found dead near Banja Luka in Bosnia while an elderly couple were found dead by their neighbours in Serbia.
In Belgium, Sunday was the 18th day of snowfall since the start of November, beating the previous record set in 1945.