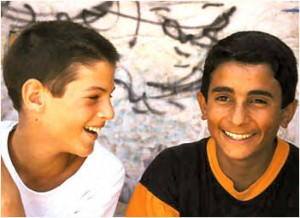 IN some of the dry and dusty Palestinian and Bedouin villages they still circumcise their boys after the seventh day. Hidden away in some Palestinian homes are Jewish mezuzahs and tefillin. Some older residents can recall lighting candles on the Sabbath.
"Many of the Palestinians know it, but it's not politically correct to acknowledge this publicly among Muslims," says Steve Hagerman, founder of Turkish World Outreach. "There are two houses of Israel in the Holy Land: one aligned with the West and primarily secular or Jewish and the other aligned with the East and primarily Islam."
When the northern kingdom of Israel was deported by the Assyrians in 745-702 B.C., most were sent to the east, Hagerman notes. After the Roman conquest, many Jews were carried away as slaves or fled to the west. "Many of the people in southern and central Italy are of Jewish origin, because so many slaves were carried away by the Romans to big estates in southern Italy."
Hagerman cites a documentary that appeared on Israeli television in 2009 that established many common links. The documentary, produced by Nissim Mossek, quotes Rabbi Dov Stein, secretary of the New Sanhedrin, "It becomes clear that a significant part of the Arabs in the land of Israel are actually descendants of Jews who were forced to convert to Islam over the centuries," he says. "There are studies which indicate that 85% of this group is of Jewish origin."
Genetic studies have confirmed the connection. Ariella Oppenheim PhD, a researcher at Hebrew University and the Hadassah Medical School labs, did several important studies in 2000 and 2001. She was able to demonstrate common origins and a number of surprising relationships. Oppenheim established that both the Palestinians and the Jews descended from the Kurds of Babylon, homeland of the patriarch Abraham.
Even more surprising, she found the Ashkenazi Jews from Europe are genetically closer to the Palestinians than Middle East Jews.  Source: Godreports
Read latest Christian news headlines
Track The Christian Messenger on Facebook | Twitter