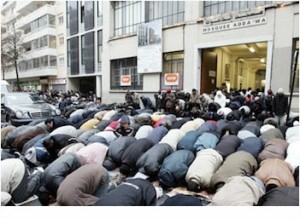 FRANCE has banned street prayers by Muslims with effect from Friday.
As a result of the ban, thousands of the nation's Muslims moved to temporary alternative spaces to offer prayers.
Henceforth, from Paris to Marseille, Friday's midday prayers will be led from disused barracks or other temporary buildings, after the question of Islam's visibility became a political issue under right-wing President Nicolas Sarkozy, reports said.
France is home to Europe's largest Muslim population. Early this year France banned the face-covering burqa and earlier this week Interior Minister Claude Gueant had warned that "from September 16 there will be no more prayers in the street."
"If anyone happens to be recalcitrant we will put an end to it," Gueant said, suggesting police could be brought in.
"Prayers in the street are unacceptable, a direct attack on the principle of secularism," Gueant had told a news agency last month.
News about France from our archives
Read latest Christian news headlines
Track The Christian Messenger on Facebook | Twitter