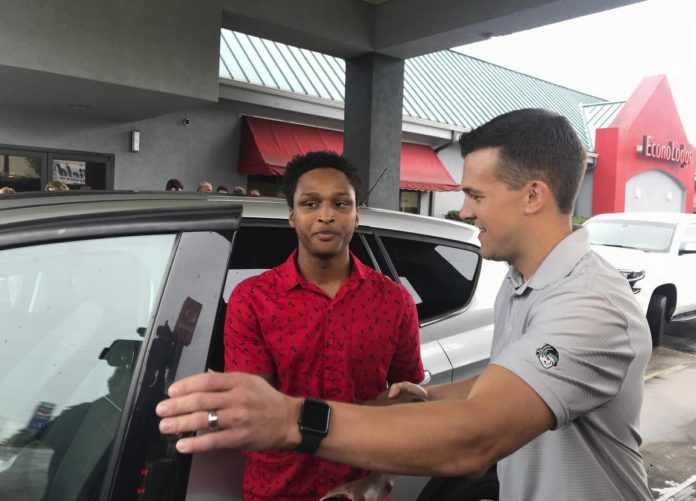 When Jenny Lamey and her husband woke up at 5:45 am, the last thing they expected to see was a police officer at their doorstep.
The couple were moving to another residence that day and were waiting for their movers to arrive. Instead a police officer rang their door and told them a student named Walter Carr had just walked more than 20 miles overnight to arrive on time for work.
It was his first day as a mover for Bellhops Moving Company that day, and he decided to make the long trek to their house from Homewood to Pelham Alabama on foot after his car broke down the day before.
"He left Homewood at MIDNIGHT and started walking to Pelham on 280. He WALKED ALL NIGHT to get from Homewood to Pelham. Because he needed to get to work," Lamey wrote in a Twitter post.
The police officer said they spotted Carr walking early in the morning and picked him up. They took him to breakfast and then drove him the rest of the way to the Lamey residence.
"You could tell how the officer told us this story that he had complete admiration for Walter and by my reaction he could tell I did too," she added in her post.
When Mrs. Lamey asked Carr if he wanted to take a nap before the rest of the moving crew arrived, he refused and got right to work.
"I asked him if he was tired from all that walking and he said replied that he wasn't and that he had a four-hour nap before he left at midnight," Lamey continued in her post. "He wore black Nike joggers which he commented that he intentionally wore because he knew he had to walk thru some pretty high grass on his middle-of-the-night trek."
Carr, who served in the Marines, said he and his mother lost everything when Hurricane Katrina swept through New Orleans.
Before long, he and the eight other movers packed up the Lamey house and helped them move. Most of the boys were students and some of them were studying engineering.
Even though Carr was just doing his job, he left quite the positive impression on the Lameys and the Pelham Police Department.
"Proud to have encountered this young man," the police department said in a Twitter post. "He certainly made an impact on us!"
Meanwhile, Mrs. Lamey set up a GoFundMe page to raise money to fix Carr's car. Hundreds of people have donated more than $10,000 to the young man.
And Luke Marklin, the CEO of Bellhops Moving, was so impressed by Carr's dedication, he has even given him his own car.
"This is an incredible story," Marklin writes on Twitter. "The grit and heart Walter showed defines Bellhops' culture precisely. I'm really proud to be on the same team as Walter… we set a high bar on service and he just raised it."