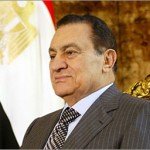 EGYPTIAN president Hosni Mubarak urged citizens of all faiths to resist 'terrorist attacks' after a church bombing killed at least 21 people and injured 80 others.
A powerful bomb exploded just 30 minutes into the New Year in the northern Egyptian city of Alexandria where worshipers had gathered to celebrate mass on New Year's Eve.
The bombing is presumed to be from a suicide attacker.
Mubarak promised in a televised address that terrorists would not destabilize Egypt or divide Christians and Muslims. The attack, he said "carries evidence of the involvement of foreign fingers."
There was concern terror group al-Qaeda was behind the blast, although no immediate claim of responsibility was made by any group. However, the attack followed threats by al-Qaeda militants in Iraq to attack Egypt's Christians.
Commentators said a direct link to al-Qaeda in the bombing would be a dramatic development as the government has long denied that the terror group had a significant presence in the country.
In Iraq, the terror group has already been waging a campaign of violence including bombings against Christians. Violence has prompted many to flee their homes.
The New Year Eve bombing in Egypt has enraged Christians in that country who complain that they are being discriminated by the Muslim majority. They accuse the government of covering up attacks on their community.
Most Christians in Egypt are known as Copts. Copt is a word derived from the Greek name Aigyptos, which means Egypt. Coptic Christians are believed to be among the largest and oldest Christian communities in the middle east region.