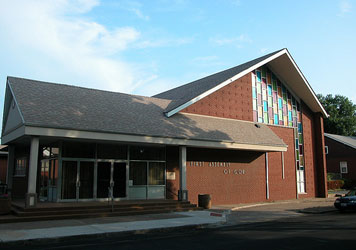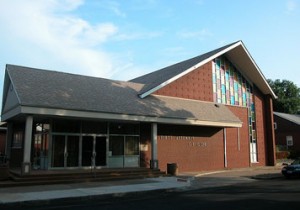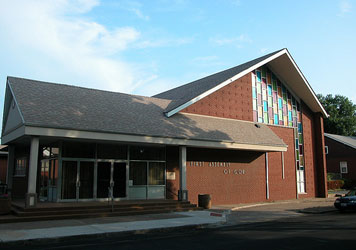 AT its 100th birthday party, First Assembly of God in Granite City will be able to celebrate something many 100-year-olds cannot attest: getting around easier.
The church will dedicate its new Madison Avenue entrance at an open house and potluck picnic at 10 a.m. July 1. For decades the church's main entrance was at Grand Avenue and 24th Street, on the opposite side of the building from the parking lot.
The new entrance is just one of many improvements the church will see in its centennial year, the Rev. Rich Smallie said.
"We're going to have a great new chandelier handing in the window, and a wide-open space to greet people," said Smallie, adding that the goal for improvements to the church has reflected the philosophy of having "open doors."
"It's a reflection of what we're doing internally," he said. "Trying to be a welcoming place for people to come."
Started in 1912 by four West Granite City residents, the First Assembly of God met in a home before moving into an abandoned saloon in 1913.
"With a small amount of money the saloon was something manageable for them," longtime church member and administrative assistant Debbie Pither said. "I've attended the church for 38 years and there were people who were able to share their experience and how they scrubbed the saloon and just really felt that they took a place that represented something else and made it into a place of worship."
The church later moved to its current location.
The church was officially chartered in 1919 under the leadership of the Rev. Carl O'Guin. Smallie took the reins in February 2011. He and his family were set to move to Spain as missionaries when he accepted the offer to come to Granite City to be pastor. The opportunity was a homecoming for Smallie: he and his wife, Laura, grew up in Granite City and attended First Assembly church as children. Though the community has changed, Smallie said the church's mission of serving Granite City will remain the same, he's just changing the game plan.
"We're in the downtown area, so we certainly have an inner-city flavor that hasn't always been what the church was," Smallie said. He plans to coordinate with other churches in the downtown area already serving the city's needy, including Jesus Place Mission Church. Smallie also wants to open a coffee house at the church where community members can discuss faith in a 'safe, clean and non-threatening place."
Collaborating with other churches in the area, First Assembly also reaches out to youth. During the school year, Youth Pastor Stacey Wilson travels with other ministers to Grigsby and Coolidge middle schools and Granite City High School for a before-school prayer with students who choose to participate. A youth group meets at the church weekly for games and bible study, she said.
By spending more time in the community, Smallie hopes the church can bring back or attract new members to First Assembly. Membership is around 130, compared to 400-500 in the 1970s when Smallie was growing up.
"This church has always been an enriching place of friendship and fellowship," Smallie said. "The community surrounding us has changed, and we're reaching a different demographic." (Courtesy: STL Today)