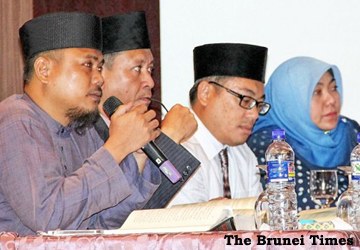 WORDS such as "Allah", "mu'min" (believer) and "masjid" (mosque) cannot be used with regards to another religion besides Islam, said a senior syariah officer yesterday.
Under the Syariah Penal Code Order, there are 19 words which cannot be used with respect to other religions.
They are azan; baitullah; Al Quran; Allah; fatwa; Firman Allah; hadith; Haji; hukum syara'; ilahi; Ka'bah; kalimah al syahadah; kiblat; masjid; imam; mufti; mu'min; solat; and wali.
Hj Hardifadhillah Hj Mohd Salleh, a senior syariah legal officer of the Islamic Legal Unit, yesterday briefed staff of the Ministry of Industry and Primary Resources (MIPR) on key parts of the Order, which will take effect this April.
Speaking to more than 200 people, the legal officer gave some examples of offences that can apply to non-Muslims such as zina (adultery) with a Muslim partner, drinking alcohol in a public place, and khalwat (close proximity) with a Muslim partner.
Khalwat is defined in the Order as a non-married couple who are "living together; cohabiting; in confinement; or isolating oneself in close proximity that can lead to suspicion that they are committing an immoral act."
If convicted, the penalty is a fine of up to $4,000 and/or one year in prison.
For adultery between a married Muslim and a married non-Muslim, both parties can be punished by stoning to death if the offence is proved by confession, or the testimony of four eyewitnesses. Read more at Brunei Times