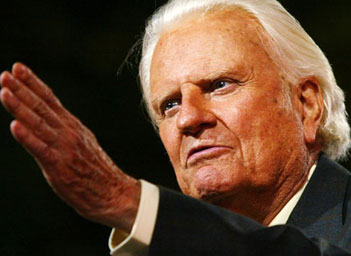 BILLY Graham was released from hospital Tuesday after spending six days recovering from pneumonia, his second bout with the lung infection in the past seven months.
Doctors decided to let the 93-year-old evangelist go home after he responded well to antibiotics and physical therapy to increase his strength, said Nancy Lindell, a spokeswoman for Mission Hospital in Asheville, N.C.
Graham said he was grateful for the thoughts and prayers from around the world, according to a statement released by the hospital.
"I also appreciated the wonderful treatment I received here from such caring doctors and nurses, and feel I have made some new friends," Graham said. "But I am especially looking forward to seeing my home decorated for Christmas and spending the holidays with members of my family."
Graham was admitted Nov. 30 after suffering from congestion, a cough and slight fever. He was diagnosed with pneumonia.
Know God | Who is Jesus Christ | How is Jesus Christ unique? | Who will be saved?
Track The Christian Messenger on Facebook | Twitter