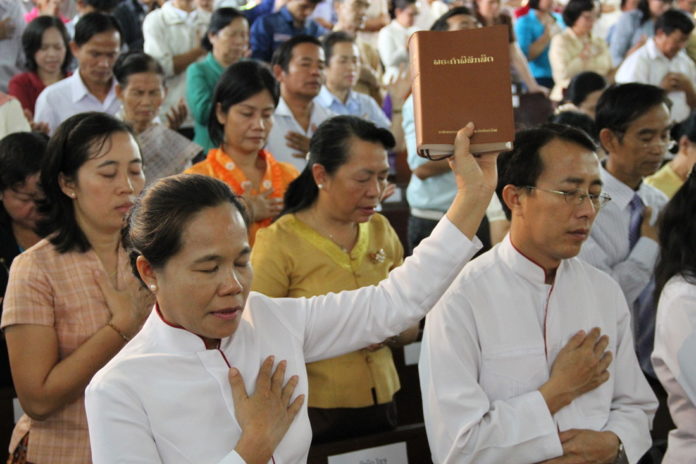 Seven Lao Christians arrested at the weekend for conducting an "illegal" church service have been released and allowed by police to return to their homes, a Lao source said.
"Yes, they were arrested, but today they've all gone home," an official in the Phin district of the southern province of Savannakhet told RFA's Lao Service on Wednesday.
The official, who spoke to RFA on condition of anonymity, declined to discuss details of the arrests or comment further on the case.
The seven detainees were arrested on Dec. 29 by police in the district's Nakanong village, according to a Jan. 2 report by the Hungary-based  BosNewsLife, citing information provided by the Human Rights Watch for Lao Religious Freedom (HRWLRF).
Police first took into custody three church leaders identified as Akeo, Kert, and Somwang, and then returned to take away four other church members named Boulai, Champee, Agae, and Ayoung, BosNewsLife said.
Authorities also "demolished the [church's] stage, cut off the power line, destroyed the sound system, and seized three mobile phones," HRWLRF told BosNewsLife.
In a statement, HRWLRF called on the Lao government to respect the rights to religious freedom of Lao citizens as guaranteed by U.N. conventions and the country's own constitution, BosNewsLife said.
Though Christian services are allowed in some parts of Laos with state officials present to check for anti-government messaging, Christians living in remote areas of the country are frequently harassed and expelled from their homes by local officials.
Four Lao Christians arrested in November in the Keovilai village of Savannakhet province's Vilabouly district were held in custody for a week for conducting religious services without permission from authorities, sources told RFA in earlier reports.