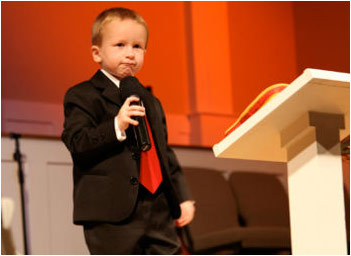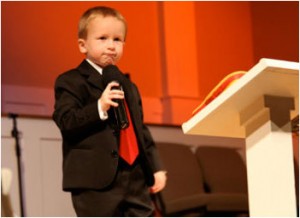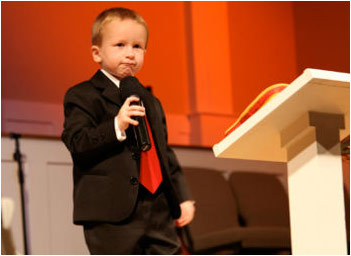 A four-year-old preacher has whipped up a stormy response from millions of observers on YouTube.
Dubbed the "pint-sized preacher", Kanon Tipton first banged the Bible from the pulpit of his family's Pentecostal church in Mississippi aged just 21 months – and his dramatic delivery his inspired and repulsed viewers across the world ahead of a television profile of the young evangelist.
Interviewed alongside his parents Damon and Kandi this week for a US news programme, Kanon told how family influence inspired him on the religious stage.
"I like to stand up there, I see my daddy preach all the time," he said, referring to his father, who is also a preacher.
Father Damon said: "I believe it's a phenomenon. I feel like the hand of God is on him in a very special way but he is the third generation of preachers so it's in his blood."
Kanon Tipton's religious speeches have been watched by four million worldwide.
The tot, from Mississippi, shot to fame at 21 months. Barely able to talk, a video of him mocking the style of church preachers was uploaded by his parents.
His father and grandfather have both taken the mic before him – but parents Damon and Kandi insist they do not coerce him.
They just allow Kanon to take to the pulpit when he is in the mood.
"One word comes to mind and I believe it's 'phenomenon'," Damon told US channel MSNBC.
"I really believe it's a phenomenon in what Kanon does. It's very unusual. I've never seen anything like it."
Watch Kanon Tipton preach on YouTube.
Be friends with us on Facebook | Twitter