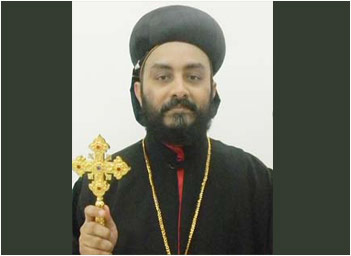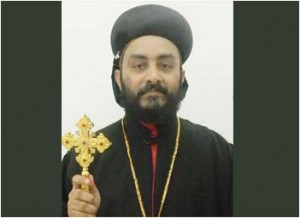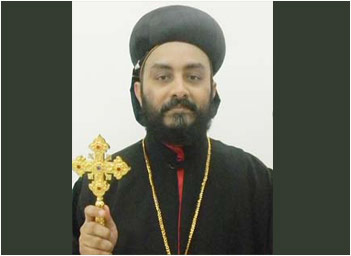 By Liju Cherian
AT 42, His Grace Dr Abraham Mar Seraphim is the youngest bishop of Malankara (Indian) Orthodox Syrian Church. He is the new Metropolitan for Bengaluru Diocese which is spread over 22 parishes and congregations in Karnataka, Andhra Pradesh (India), and Ras Al Khaimah, Dibba and Fujairah of the UAE. His Grace had his graduation in science from Mahatma Gandhi University (Kerala), BD (Serampore) from Orthodox Theological Seminary, Kottayam, Kerala, and M. Th. from Dharmaram College, Bengaluru. He has a doctorate in Pastoral Counseling and Ministry from Elmhurst Hospital, Illinois, USA. A good orator with a rich baritone, Dr Mar Seraphim has chalked out impressive plans for his diocese.  In a free-wheeling interview, Dr Mar Seraphim outlines his plans and defines a 'new system' for his diocese and the need for strong ecumenical relations with other communities. Excerpts:
What are your vision and plans for the Bengaluru diocese?
My first priority is towards spiritual revival. My vision for the diocese is the uplift of the parish and individual families. I desire them to lead a Christ-centered lifestyle.
What are the hurdles faced in setting up the diocese?
At the moment, I don't have a place to stay or call as our own. We are in a rented building paying Rs 25,000 per month. A room in the rented house also makes up as a place for prayer and meditation. I have an office boy but there is no transportation to move around at present for diocese work. We are on the look out for a land in Bengaluru to set up our Aramana and I am on a drive for funds. We inaugurated the fund collection when HH the Catholicos visited Bengaluru for the Sunthronitho (enthronement) ceremony and, thereafter, it was extended to all the parishes in the city.
St Thomas Orthodox Church, Bengaluru East, provided an accommodation and office in Bengaluru East taluk along with furnished buildings measuring about 4,400 sq ft with built-up area and a chapel. The area is inside the city limits, surrounded by various Christian institutions. I like the place and I have a dream to have a centre of our own. The problem is that the property at present is on a notified land. I am praying that it would soon be denotified by the Karnataka government so that we have a spiritual revival centre with an administrative office system or guest houses in future. Our diocese doesn't have any income generating schemes…not even a single Lower Primary School as a source of income. We need to have at least five acres of land if we have to set up a school or a college. As real estate rates shoot up in Bengaluru, we need to acquire some properties which can be utilized at a later stage.
What reforms or changes have you envisioned as the diocese head?
Frankly speaking, our church is presently not following the traditional way. We need to change our style and way of thinking. We are in a process of change. Elders in the church will act as mentors across our diocese. Since the church vicar cannot participate in each and every matter, they (the mentors) will be trained to act in his absence. They are being trained for Bible study and training classes have already begun under Rev Fr K M Jacob of the Mathikere Church. We are aiming at decentralization of ministry work or what we call the abhyantara mission. Though initial resitance will be there, we have to give way and move ahead.
Bengaluru has several educational institutions and companies. How are you planning to tap these students who migrate from other states to come to Orthodox churches?
This is a pressing problem. Many of these youngsters are straying away without any proper guidance. The moment they enroll in any college in Bengaluru or Karnataka, simultaneously we will ask the vicars there to send an email online or a letter to the nearest church in the new place where he/she is a student. Soon, all Bengaluru churches will be linked online when the website of the diocese is ready. We are also planning to have the students received at their port of call be it railway stations, airports or bus stations with a family kit. It is to make them feel that they are not neglected and be part of our community. I am also canvassing young couples to volunteer for ministry work in colleges, to listen to their problems and request them to follow and come to our Orthodox churches. Recently, prayer meetings were organized for techies at IBM. Now, we have decided to have a wider circle of such meeting to include all companies. The response was good and this is on an experimental basis where training on how to speak at prayer meetings is conducted.
English Holy Eucharist is a major laudable step of yours. What are your other plans?
I feel we must not remain only as a Malayalee congregation but welcome others into the church. We are open to all languages to make it more universal. Though we have been in Bengaluru for long, we are still not accepted into the mainstream of the society. The Bengaluru diocese has to find place for new churches, hospitals, schools and service-oriented activities to be in the mainstream of society. Though we did face some resistance to the English Eucharist initially, it has been accepted gradually. This will greatly benefit students, mainly among migrants who do not follow Malayalam. The service is now being held every Sunday evening for two hours in a neutral place on an experimental basis. Slowly, we will have this in each of the 12 churches in the city. We are bringing out a common prayer book containing the sayings of priests and the laity, which will greatly be of help.
What are your new approaches to boost the laity's involvement in church activity?
You see, our church must be accepted into the society. Even after having been around in Bengaluru city for over 67 years, we are still being left out and neglected. I would favor our diocese to have 'structures' or a monument by which we will be noticeable or stand out, when we have a set up of our own. I would also like to organize family conferences like those in the US which will revive strong family bonds. These conferences have common sessions like prayer, meditation, meals and games wherein the families stay together for 3 or 4 days. HG Geevarghese Mar Yulios and I attended a three-day family conference at Milwaukee (US) after our ordination as bishops. We also used to organize such meetings in the US during our days as vicars. I am planning to have something like this in my diocese soon and also have all the seven recently ordained metropolitans to come and stay in Bangalore. They can perform Holy Eucharist in seven different churches of Bengaluru. I also recently met the Archbishop of Bengaluru Diocese and we have become part of all other Christian groups in the city. We need to have strong ecumenical ties which will help us to perform as a community and to give back something for its betterment.
You have given a call to emulate the practice of Ethiopian Orthodox church style of shunning cities and moving to ashrams for a life of prayer, meditation. Is it really practical?
Rev Fr Jossy Jacob of the Malankara Orthodox Church showed me photographs of different types of Ethiopia's neglected island monasteries. On those 30 islands, lie some of the oldest monasteries in Africa. Fr Jacob has asked me to visit those monasteries. The monks live here in secluded monasteries and the solitude it offers is great. Their strict routine consists of waking up at midnight and praying together until the crack of dawn. There is no electricity and they pray in the darkness throughout the night. Prayer and meditation is done while wild animals roam about freely. The skeletons of some of the saints are hung over huge trees or installed there. Our own St Gregorios of Pampady was a popular bishop whose love for birds is well known. He liked to feed them. We can also recreate the same in our Indian context with some modifications to include yoga, ayurvedic sessions and others.
Bengaluru opened a MGM Counselling Centre after you took over. What are the modern amenities you have in mind?
The MGM Counselling Centre was a mobile venture of Fr Dr Paul T Varghese, Students' Chaplain and Vice President, MGOCSM, Karnataka Chapter. In future, such centers can also include accommodation and offices. I am for pastoral counseling, and setting up counseling centers for youths. We are now targeting suburbs like Bellary and Raichur. These have large number of study centers and institutions. If we set up a base in suburbs, in about 5 to 10 years from now, we can reap a rich harvest. In the suburbs if we plan and move like buying a piece of land it will be to our benefit and having 10 to 15 families will be good start. Income can be generated by renting it out to schools or using it as a multi-purpose hall. We have an offer from Yacharam centre, 45 kilometres away from Hyderabad, to use their land for educational purpose.
I like the selection of your name 'Seraphim'. What made you go for it?
Seraphim means one 'angel of the highest rank' or 'one who shines over others'. During the 2008 MGOCSM Centenary Celebrations, Bishop Angaelos from the Coptic Orthodox Church of Alexandria led the conference. As MGOCSM president, I had the opportunity to meet the bishop. I was impressed with his style and way of thinking. I was looking for having a similar name since 'Angaelos' means angel. Bishop Angaelos also specializes in youth ministry and is based at the Coptic Orthodox Church Centre in UK. He travels extensively, lecturing to Coptic youth at various youth conventions and conferences throughout the world. Later, it was HG Mar Ivanios Metropolitan who suggested and helped me to choose the name 'Seraphim' and asked me if I liked it. I then went into a study and found Saint Seraphim from Kursk, Russia, was one of the best-loved saints of the Russian Orthodox faithful during the 17th century. St Seraphim served the Sarov Monastery and his love for God was great. The elderly saint or spiritual father also functioned as a venerated adviser and teacher. Hence I chose the name and got the approval.
Be friends with us on Facebook | Twitter