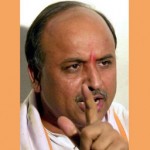 VISHWA Hindu Parishad (VHP) international general secretary Pravin Togadia hit out against 'appeasement politics' due to which 'large-scale' conversions were happening in the country.
Addressing the final session of a 3-day meeting tilted 'Akhil Bharatiya Dharmaprasar Karykarta Sammelan' in Ahmedabad, he called for death sentence to those who attempt to convert Hindus to other religions.
Opinion Poll: What should Christians do with Pravin Togadia? Take the 1-minute survey!
Togadia, a surgeon by profession, said while anti-conversion measures were a priority, re-converting the Hindus converted to Islam or Christianity was a bigger priority. He said those who attempt to convert Hindus to other religions must be beheaded.
According to him, large-scale conversion of Hindus to other religions was being carried out only because of the 'appeasement politics' of all major political parties.
Police had ensured adequate security to the meeting as it was held close to a Muslim worship place. The timing of the meeting also coincided with Bakrid.
However, senior BJP leaders have dismissed Togadia's statement. Although none of them was willing to be quoted on the issue, they made it clear that they do not subscribe to the view held by Togadia.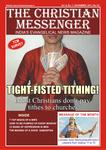 Rediff quoted a BJP Rajya Sabha MP as saying: "Togadia is a mad cat. How can our party subscribe to such an outrageous demand? In a civilized society such statements are provocative for those who feel that they are unnecessarily being targeted."
The Communist Party of India also condemned the provocative statement.
"Togadia is a rabid communalist who keeps on doing such things. I would urge the Government of India to take appropriate action against him," CPI's D Raja said.
Get the latest news from India | Read latest Christian news headlines
Track The Christian Messenger on Facebook | Twitter