Valerie Jarrett sought to bring in US President Trump into the racist tweet row kicked up by comedian and actress Roseanne Barr in which she compared the former Obama aide to an ape.
"The tone does start at the top, and we like to look up to our president and feel as though he reflects the values of our country," Jarrett said in an MSNBC special. "But I also think every individual citizen has a responsibility too, and it's up to all of us to push back. Our government is only going to be as good as we make it be."
Meanwhile Roseanne Barr apologized for a tweet comparing Valerie Jarrett to an ape.
"I apologize to Valerie Jarrett and to all Americans," Barr wrote on Twitter. "I am truly sorry for making a bad joke about her politics and her looks. I should have known better. Forgive me – my joke was in bad taste."
Valerie Jarrett is an American government official and former businesswoman, who served as the senior advisor to the President of the United States and assistant to the president for public engagement and intergovernmental affairs in the Obama administration from January 20, 2009 to January 20, 2017. Prior to that, she served as a co-chair of the Obama–Biden Transition Project.
ABC, which broadcasts Barr's sitcom "Roseanne," canceled the show later Tuesday, citing her tweet, calling it "abhorrent, repugnant and inconsistent with our values."
The tweet, which has since been removed from her feed, said: "muslim brotherhood & planet of the apes had a baby=vj," referring to Jarrett.
Here is a screenshot of the tweet taken before it was deleted: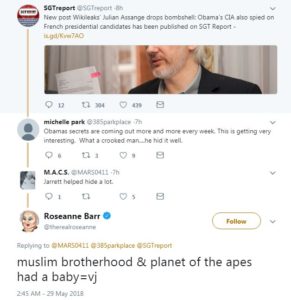 Critics immediately slammed Barr's remark as racist. Likening black people to apes is an attack commonly used by racists. The Muslim Brotherhood, meanwhile, is an Islamist political group.
In an earlier tweet, the actress appeared to defend her statement. "ISLAM is not a RACE, lefties. Islam includes EVERY RACE of people," she wrote.
The actress also said that she would be leaving Twitter.
The sitcom "Roseanne" returned to television this year after an initial run in the 1980s and '90s. Its recent premiere shattered ratings records, although it has faced criticism for racially tinged humor. ABC is owned by Disney.
On Tuesday, consulting producer Wanda Sykes, who is black, announced on Twitter that she would not be returning to the show. She did not provide a reason, and could not immediately be reached by CNBC.