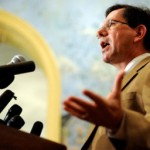 JUDSON Philips, founder of Tea Party Nation, one of the most prominent tea party organizations in the US, has described the Methodist Church as "the first Church of Karl Marx."
In a recent blog post, he has written as follows: "The Methodist church is pro-illegal immigration…They have been in the bag for socialist health care, going as far as sending out emails to their membership 'debunking' the myths of Obamacare. Say, where are the liberal complaints on the separation of church and state?"
In the blog, he recounts his experience visiting the United Methodist Building in Washington DC, where he came across a promotional banner for the Dream Act. The Act is a failed piece of legislation that, had it been successful, would have provided a path to citizenship for some immigrants who came to the US as children.
"They want amnesty, they want 'economic justice', they opposed 'global climate change' (earth to the Methodists, man isn't doing it) fighting global poverty (here is another hint, most poverty is caused by a lack of freedom and lack of a free enterprise system). Not shockingly, the Methodists side with the Islamists against Israel, and of course oppose America in Iraq," he writes in the blog.
The Tea Party is a political movement in the United States that has organized protests since 2009. The organization stands for reduced government spending, lower taxes, reduction of the national debt and federal budget deficit, and strict adherence to a more conservative interpretation of the United States constitution, according to the Wikipedia.
Philips' Tea Party Nation is a Conservative American political organization. Among Philips' demands is rolling back the voting rights of Americans so that only property owners would be allowed to vote.