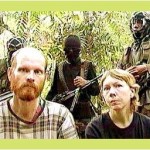 By Dan Wooding
GRACIA Burnham, who was born January 17, 1959, in Cairo, Illinois, worked alongside her pilot husband Martin, for 17 years from 1986 as missionaries in the Philippines with the New Tribes Mission.
But then on May 27, 2001, the world of these two dedicated American Christians came crashing down, when the couple were among a larger group kidnapped by the Abu Sayyaf, a notorious Islamist separatist and terrorist group operating in the southern Philippines.
While most of the group was freed after ransoms were paid and several were beheaded, the Burnham's were in captivity for a year and a few days. Then, during the eventual rescue attempt by the Philippine Army on June 7, 2002, Martin was killed by three gunshots in the chest and Gracia was wounded in her leg.
Since her release and the death of her husband, Gracia Burnham has returned to the United States with their three children. She has written two books about her experiences, 'In the Presence of my Enemies'  (2003) and 'To Fly Again' (2005). The Burnham's capture and captivity were the subject of a July 2008 episode of the TV series, Locked Up Abroad.
She has also set up the Martin and Gracia Burnham Foundation, and one of its focus areas is 'ministries to Muslims.'
In an extraordinary interview recently at NRB 2011 at the Gaylord Opryland Resort & Convention Center in Nashville, Tennessee, for Front Page Radio program, this extraordinary woman recounted her incredible story.
She also revealed how she has been able to forgive their captors and is now sharing the Gospel with the terrorists in their prison cells in Manila.
Gracia told me, "God in his goodness has shown me why we went through that year. Recently I have been able to find 23 of the guys who held us hostage. They're in jail in Manila in a maximum security prison for the rest of their lives.
"Our foundation has begun working with them and doing projects for them to show them the love of Christ and having materials printed into their dialects. They're reading the scriptures in their own languages and some of them are going to Bible studies. So far three of them have come to know the Lord Jesus as their savior.
"I think that God out of His goodness is just letting me see how maybe he used our captivity to do something in the lives of some men who otherwise would never have had access or would never have heard the gospel and I just can't help but believe that it's not over till it's over and God's going to keep doing it."
When I asked her if she had been able to meet these men that caused them so much pain, she replied, "I haven't met them yet but I correspond with them and I get letters back from them. They asked me to come a year ago and I didn't have peace about visiting the jail at that time, but Martin's parents, who were missionaries in the Philippines, went and visited the jail for two days in a row and talked with those men who held their son captive and had the best time. So, someday I'm going to meet those men. Someday my children are going to walk into that prison and put their arms around these men and pray for them."
I then pointed out to Gracia that she and Martin had been pictured looking gaunt and ill in just about every newspaper in the world during their captivity, and told her that she now looked radiant, despite still having shrapnel in her left leg and having endured the nightmare of seeing her husband die in such terrible circumstances.
She then told me that shortly after their marriage they went into missionary training with New Tribes Mission.
"We did a year of what they used to call 'boot camp', though they don't call it that anymore," said Gracia. "We would learn to live in spartan conditions and then, for six weeks, we had to live out in the woods at a kind of jungle camp with whatever we took out there with us.
"We built our own house and we were getting ready for our new work in the Philippines and, of course, Martin had specific pilot training. He had to learn to fly into little short strips built up the side of a mountain because that's what he was going to face overseas. So we had good extensive training. As soon as we were done with that training, we left for the Philippines."
It didn't take them long to settle into their new and demanding life.
Was it dangerous?
"Well we soon found out that there were communist guerillas up in the mountains, but we felt very safe and we always avoided hot spots. We were never careless," she said. "We were in a small town because our job was to keep the tribal missionaries, who lived out in the jungle areas where there were no roads, supplied. We had a good market there and so we built up a little grocery store for the missionaries. Martin also did medical evacuations.
"I was the radio operator and I would talk to the people in the tribal villages and take their grocery orders and their medicine orders and then Martin would box them up and fly them in. So that was our job. We were the suppliers.
"We had snakes and rats and little lizards crawling along the walls, but that's what you get when you live overseas in the tropics."
Gracia said that she also had three children born in the Philippines adding, "I had the three of them just right in a row."
So it seemed that their lives were quite idyllic, but then one day it all fell apart. So I asked Gracia to describe what happened.
"Martin needed to go to work on a small island in the Southern Philippines to fill in for a missionary pilot there," she said. "He had just been on an overseas trip and was jet lagged so he needed to rest."
She said they had decided to let Martin get some rest and also celebrate their 18th wedding anniversary at the Dos Palmas resort on Palawan island on May 27, 2001.
"We were only going to be there for 24 hours and we went to bed that first night and the next morning there was pounding on the door and Martin got up and even before he got to the door, these three guys with M-16 automatic weapons broke the door in. One of them took Martin out, while another came over to my bed and lowered his weapon at me and yelled, 'Go, go, go'. So I followed and they were taking us down to a waiting speed boat down at the docks."
Gracia said the children were not with them as they had left them with co-workers.
So did you suddenly realize this was bad?
"Yes, when they raised their weapons in the air and yelled 'Allah Akbar' (God is great), that's when we knew it was the Abu Sayyaf. These are a group who are militant Muslims who have declared jihad in that area of the world, only their jihad has degenerated into kidnapping people for a ransom. So at that moment we both knew that we were in big trouble. There were 20 hostages taken that day.
"We were the only missionaries. There were three Americans — Martin and I and a businessman from California called Guillermo Sobero of Corona, California. They didn't target us because we were missionaries and were disappointed to find out that we were Americans as Americans don't play the ransom game very well and also missionaries don't have any money. They were hoping for European business men because they knew that they could get money from them."
So the captives were put on a speed boat and, after three days over the ocean, they finished up in a remote Muslim stronghold where they knew the trails and places where they could get food and supplies.
Gracia went on to say, "So for the next year, we were running for our lives and sleeping on the jungle floor and drinking dirty river water and starving and witnessing the atrocities that these guys committed against villages as we would go through."
What kind of atrocities?
"To gain control, they would often go through a village and would separate a few guys off to the side and chop their heads off. I didn't see that, but I heard the yells and the scuffles. These were not honorable men. The name of Abu Sayyaf brings terror to the hearts of the Filipinos."
Gracia revealed that they never settled in one place, adding, "We were always moving because the Philippine military were coming after us to try and rescue us but they didn't really know much about hostage rescue as when they found us, they would just shoot up the camp Rambo style and we would have dead and wounded and we still knew that one of these days those bullets were going to find us and we weren't going to survive the gun battles."
Did you know at the time how much publicity was going out on this situation?
"We had no idea," said Gracia. "Of course we knew that New Tribes Mission and our families were praying for us but we didn't know that all over the world, people were starting to pray for us. I later found out that Christian radio and other broadcasters kept the public aware of our kidnapping and just kept our names out there and that these people began praying for Martin and Gracia. What would we have done without the prayers of God's people?"
So how long did this go on for?
"We were held hostage for a little over a year and ten days," she said. "We got sick and suffered from dysentery and diarrhea and we were dirty all the time. There were no clean clothes to change into. We started feeling more like animals than human beings. And often we felt forsaken — God forsaken — and I used to tell Martin, 'Everyone's forgotten us as this had has gone on for so long.' Of course, we knew that wasn't true.
"I had a few crises of faith and I remember that week 10 was very difficult for me. I'd given God about six weeks to get us out of there and He didn't come through and I think week 10 I really had it out with God. I decided He didn't love me because if He loved me He would answer our prayer and we would be out of there right? But here we were, stuck in a bad situation and Martin saw the depression and the horrible time I was having and he said, 'Gracia, it's so sad to see you giving up your faith.' I said, 'Oh, I'm not giving up my faith. I still believe Christ died for our sins God made the world, but I just don't think God loves me because He's not coming through for me.
"And Martin said, "Seems to me that you either believe it all, or you don't believe it at all. You need to choose what you're going to believe. And I decided to believe that what God's Word said was true. So I just grabbed onto verses like John 3:16 that I knew to be true and claimed them as my own even though I wasn't feeling like God was for us and not against us."
Gracia then said, "The conditions were awful, with a year of not sleeping well. We could never get comfortable on the jungle floor. We always knew that the military was nearby and there was always an uneasiness which meant that never once were we able to relax. So the weariness wasn't just physical, it was mentally and also morale-wise."
How were the other hostages coping with the situation?
"The other hostages were truly heroic, but one by one they were ransomed and they would let them go," she said. "A few of them escaped and the other American, I'm sad to say, about a week into our captivity was beheaded. They got angry with him and so until the end, it was me and Martin and a Philippine nurse for the last like five months of our captivity. It was just us three and we just tried to encourage each other as best we could."
Gracia then shared about how one day they had obtained a radio from one of the terrorists and were "dialing around trying to find some English speaking programs" when what she considered a miracle occurred.
"We found a Christian radio station out of Alaska and tuned in right as a pastor was talking about how Christ sits at the right-hand of God making intercession for us," she said. "He said, 'If you could hear Jesus in the next room praying for you right now you would not be afraid of anything.' And then he prayed for people in war-torn areas and people who were being oppressed because of their faith and we looked at each other and said that this man was talking to us and praying for us and it was the first spiritual input that we'd had in a year and God just sent us that message at the lowest point of our captivity. I'm just so thankful to him for His goodness."
Did you ever find out who he was?
"Yes I've met the man. His name was Andy Baker and he's from here in Nashville and I've gotten to spend a little bit of time with him on a few occasions," she said. "I think he couldn't believe it when I made a statement at Martin's funeral on national TV and I talked about KNLS out of Alaska and mentioned his name. A friend called him up who knew him and we were able to get together not so long after that."
How long after you got the radio did it all fall apart?
"A few days later," said Gracia. "The Abu Sayyaf had been told that ransom was waiting for them in a village and we couldn't find the place because it didn't exist and we were wandering around lost. What we didn't know was that a homing device had been sewn into a backpack that had come in so the Philippine military were able to tell where we were and they were closing in on us.
"That last day it clouded up to rain and always before we were safe in the rain it was like an unwritten rule you never fought in the rain. But that day we stopped to wait out the rain and the military didn't stop. They came over the hill and, as usual, they just opened fire on us and all of us hostages were shot. I was shot in the leg and Martin was shot in the chest, while the nurse was shot in the neck.
"Martin just lay there during the gun battle and all of a sudden he got very heavy. Have you heard that term 'the weight of death?' Well, I think that's what I felt. Then as the Abu Sayyaf retreated down the river and the soldiers came over the hill I began to move my hands around so they would know that I was alive and they dragged me to the top of the hill and I looked back at Martin and he was white. That's when I knew he was dead. And, in that moment, God gave me a peace that I cannot explain because this is not how I would have written the end of our story. It's not what we were praying for, But God just gave me a peace that this was His plan and that the same God that had kept us going for over a year in the jungle did not lose control that day and I still hang onto that."
Gracia went on to say that, by that time, she had worked out the issues she had regarding her anger with God, thinking he didn't love her and also wrestling with the sovereignty of God in her life.
"I had settled those issues in the jungle," she told me. "For a year, I learned those lessons and when Martin lay there dying there was no questioning God. I knew that this was God's plan. I knew that He was going to take care of me. I knew that He had answered our prayers. We were begging God to let one of us at least go home and raise our children. We did not want them to be orphans and God did it. He let me raise the children and you know the children love God. One of my boys is doing what his daddy did. He's flying in Botswana, Africa, for a mission organization."
And what about her leg wound? How bad was it?
"Well, not bad enough to kill me though I do have a huge scar. They airlifted me in a helicopter out to a sort of US army field unit that they had set up and they did the surgery right there out in the field. They were able to pull part of the bullet out but I have a lot of shrapnel in my leg, but they fixed me up well and they just cared for me so well and everyone has been so kind to me.
"This has just opened huge doors for me to speak to tell my story and also to talk with victims of crime. So I take my opportunities and if somebody wants an interview I give it because, who knows, what path someone might be going down today. Paths that they never would have chosen if they were choosing hardships that they don't feel adequate to bear and you can encourage them that God is enough; that God is leading and directing you. You just follow Him and he'll make everything that happens to you work together for good and for his glory and that's what we want."
I concluded this extraordinary interview with this extraordinary woman by asking if she had been able to say goodbye to Martin before he died.
"I said goodbye to Martin several times during our captivity," she said. "One day we were being shelled by artillery they were shooting from 10 miles away and artillery was landing all around us and I told Martin, 'I need to say goodbye to you. I want to say everything I want to say now before it's too late."
What did you say?
"I said, 'I'm glad I married you. I'm glad we had a good marriage. I'm glad we came to the Philippines. I would never choose to have not done what we did. Thank you for being a good husband. I'm so glad God gave us the children he gave us.' I was able to say all those things.
"So when Martin lay there dying, I could do what he had taught me to do in a gun battle. He told me to lay flat on the ground and 'don't move until someone tells you what to do.' He had also told me to make myself the smallest target 'you can possibly make.' I was trying to look dead. I thought the worst thing that could happen now is they [the terrorists] could drag me off into the jungle and the nightmare would continue. So I was able in that moment to keep my head on straight. I'd already said goodbye to Martin. I didn't even know he was dying at that moment as I'd never watched a person die."
With that, this wonderful lady was off and I sat quietly with my son Peter, who had filmed the interview trying to take in all that Gracia Burnham had said about the time that she and Martin had been in the presence of their enemies.
If you would like to know more about Gracia's work today, visit her website. ANS