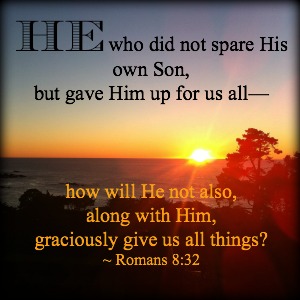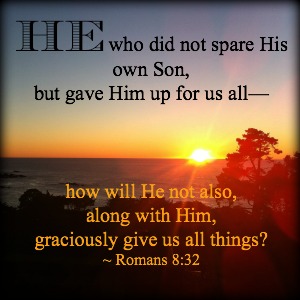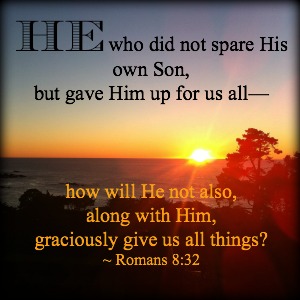 By Robin Sam
He who did not spare His own Son, but delivered Him up for us all, how shall He not with Him also freely give us all things? (Romans 8:32).
THE HOLY BIBLE has several promises. Some promises are unconditional but most are conditional. Some promises are given to us to be inherited on earth, while most of them are for the time yet to come. But Romans 8:32 is the foundational verse for all Biblical promises. I would like to call it the premise of all promises and blessings found in the Scriptures.
He who did not spare His own Son, but delivered Him up for us all, how shall He not with Him also freely give us all things?
What does God give us? The verse tells us He gives us all things. This is one of the first things we need to gather from the verse above.
During His earthly ministry before Jesus made the call to all who labour and are heavy laden, He made it a point to state His heavenly authority given to Him by God, His Father. He said: 'All things have been delivered to Me by My Father, and no one knows the Son except the Father. Nor does anyone know the Father except the Son, and he to whom the Son wills to reveal Him' (Matthew 11:27).
'He who did not spare His own Son…'
What does it show you? The love of God the Father. Who is the Son who was delivered for us all? Colossians 2:9 says: 'For in Him dwells all the fullness of the Godhead bodily.'
To those who nullify the deity of Jesus Christ quoting this verse and reasoning that it was so only after Jesus received a body, I would like to point out another verse in Colossians that talks about the pre-incarnate Son. Colossians 1:15 says: 'He is the image of the invisible God, the firstborn over all creation.'
Jesus Christ was the image of the invisible God since eternity. He will remain the image of the invisible God till eternity. John 1:2 says 'He was in the beginning with God.' Proverbs 8:22 & 23 say this about the pre-incarnate Jesus: 'The Lord possessed me at the beginning of His way, before His works of old. I have been established from everlasting, from the beginning, before there was ever an earth.'
It is this Jesus Christ, God's own Son, the Father spared not! We will never be able to fully comprehend the love of the Father that gave up His only Son for us. To help us understand this to an extent, we need to turn back to Genesis 22. God called Abraham and said: 'Take now your son, your only son Isaac, whom you love, and go to the land of Moriah, and offer him there as a burnt offering on one of the mountains of which I shall tell you' (verse 2).
What was Abraham's response? Verse 3 says: 'So Abraham rose early in the morning and saddled his donkey, and took two of his young men with him, and Isaac his son; and he split the wood for the burnt offering, and arose and went to the place of which God had told him.'
Was Abraham serious about offering Isaac to God? Yes, he was. 100 percent. If he weren't, his actions would have belied his intentions.
If he weren't serious about offering Isaac to God, he need not have set out early in the day. The Bible says Abraham rose early in the morning. And, no, he did not rise early to sneak out of his tent and drag a sleep-eyed Isaac without anybody noticing it. He took two of his servants with him. True, Jacob was not yet born. Israel was still a long way off, and the law of two or three witnesses was not in force yet, but still Abraham chose to take the servants with him not to carry the wood (up to the foothill of Mt. Moriah, the donkey must have carried the wood. Abraham himself would carry it up the hill later). The righteous man that Abraham was, he had no intention of cooking up a story to explain the disappearance of Isaac. The two servants were to be a witness to the fact that Isaac was last seen with Abraham on Mt. Moriah. Abraham willed it that way when he took them with him.
If he weren't serious about offering Isaac to God, Abraham would not have split the wood at home, before the departure. If he were half-hearted about it, he could have easily excused himself saying Jehovah Jireh, the Lord who provides, will provide the wood as well.
If Abraham weren't serious about offering Isaac, he could have returned home with his son after the three-day trudge saying the Lord did not tell him the exact place of the burnt offering. Indeed, God did not tell him or show the place of the burnt offering. But a willing heart will never substitute anything for obedience. A consecrated life will never look for excuses to avoid duty. Verse 4 says, 'Then on the third day Abraham lifted his eyes and saw the place afar off.'
If he weren't serious about offering Isaac, Abraham could have asked God for more time to offer up his son. In Judges 11:37 we see Jephthah's daughter ask for two months to bewail her virginity on the mountains.
If Abraham weren't serious about the offering, God would not have made that classic endorsement of his faith in Genesis 22:12, 'Now, I know that you fear God.'
The God who spoke to Abraham last in the 2nd verse spoke to him again only in the 11th verse. The God who chose to remain silent for three days spoke the moment Abraham stretched out his hand and took the knife. Unlike what the Sunday School pictures suggest, Abraham did not lift the knife over Isaac. The God you and I serve did not even wait until then. The moment Abraham's hand held the dagger, God knew he meant business. And, He intervened. 'Abraham, Abraham… Do not lay your hand on the lad.'
That is the very same God who did not spare His own Son, but delivered Him up for us all. If you understand the significance of the verse, will you make a joyful shout unto the Lord?
…but delivered Him up for us all'
To whom was Jesus delivered? To us. That includes you and me. Romans 5:8 says, 'But God demonstrates His own love toward us, in that while we were still sinners, Christ died for us.'
There was not a speck of righteousness in any of us that God should have deemed it fair to send His own Son to us. If you think Romans 5:8 talks about generations that preceded us, wait until you read what Paul wrote about what our generation in 2 Timothy 3:1-3. 'For men will be lovers of themselves, lovers of money, boasters, proud, blasphemers, disobedient to parents, unthankful, unholy, unloving, unforgiving, slanderers, without self-control, brutal, despisers of good, traitors, headstrong, haughty, lovers of pleasure rather than lovers of God, having a form of godliness but denying its power' (verses 2 to 5). The Bible says Jesus 'endured such hostility from sinners against Himself' (Hebrews 12:3).
God loved us when we were despicable. God gave His own Son as the supreme gift to us when we had nothing to offer Him in return. Oh, praise God for His love!
. '…how shall He not with Him also freely give us all things?'
How does God give us all things? According to Romans 8:32, God gives us all things FREELY with Him (Jesus Christ). If that has gladdened your heart as it did mine, shout to the Lord! Blessings are a natural progression in a redeemed child's life. They are the next logical step in a sanctified believer's life. And, they come as a package along with Jesus Christ.
The young lions lack and suffer hunger; but those who seek the Lord shall not lack any good thing, said David in Psalm 34:10.
There was a church that gathered in the house of Philemon. Apostle Paul had only good things to say about the church. They were known for their love and faith toward the Lord Jesus and toward all the saints. After this commendation, Paul let the church in on a great secret in the 6th verse. He said: '…the sharing of your faith may become effective by the acknowledgement of every good thing which is in you in Christ Jesus.'
In other words, Paul was saying the mouth that preaches must belong to a heart that rejoices. Why do we preach the Gospel? Because we know it to be true. Why do we share our faith with others? Because we know it can make a difference in other's lives and can impact people for Christ. So, how do we make the sharing of our faith effective? Paul says by acknowledging every good thing which is in you in Christ Jesus. Remember, Paul is not talking of material things here. He is talking about love, faith generosity and forgiveness – all things he found in Philemon and the church in his house.
The good news, however, is this: God is mindful not only of the spiritual but also of the material. Will you shout out a praise to God? Hallelujah!
God wants to show us four levels of blessings encompassed under the all things mentioned in Romans 8:32.
The blessing that's progressive
Now Abraham was old, well advanced in age; and the Lord had blessed Abraham in all things (Genesis 24:1).
God blessed Abraham in all things. Some translations say: the Lord had blessed Abraham in every way. There was nothing in which Abraham was not blessed. Look at this way. God had blessed Abraham in every way possible that now he no longer thought about himself but about his son, Isaac and a bride for him.
That's what God's blessings can do in our lives too. Proverbs 13:22 says: 'A good man leaves an inheritance to his children's children.' In Genesis 25 we see while Abraham gave gifts to the sons of his concubines, he gave all that he had to Isaac.
Abraham's son Isaac had his own share of blessings too. Apart from all that he had inherited from Abraham, Isaac had some specific blessings too. Genesis 26:13 says: 'The man began to prosper, and continued prospering until he became very prosperous.'
The blessing of the Lord makes one rich, and He adds no sorrow with it (Proverbs 10:22).
Our God is not a god of half-blessings He is a God who makes one prosper and makes you to continue to prosper until you become very prosperous.
If you have proved that you fear God like Abraham and if you have submitted yourself wholly and unconditionally at the altar of the burnt offering like Isaac, you can look up to this continued state of blessing.
The blessing that bestows healing on you
When Apostle and elder John wrote to Gaius, his beloved in truth, he wrote thus: 'Beloved, I pray that you may prosper in all things and be in health, just as your soul prospers' (3 John 2)
There are those who believe it is not right to ask God for healing. They would rather suffer ill-health in silence than ask God to bless them by healing them. Such people only have set their minds on half-truths. Yes, the Lord says" 'Your affliction is incurable, your wound is severe…you have no healing medicines' (Jeremiah 30:12-13). But in the same chapter, God reverses it by saying: 'For I will restore health to you and heal you of your wounds' (17th verse).
Prophet Malachi has a special word of encouragement for those that fear God's Name. He says: 'But to you who fear My name the Sun of Righteousness shall arise with healing in His wings; and you shall go out and grow fat like stall-fed calves.'
The Sun of Righteousness arises with an express purpose – to give healing to those who fear Yahweh's Name. If you are among those that fear the Name of the Lord, the healing in the wings of the Sun of Righteousness is yours to claim. Amen?
The blessings that pertain to life and godliness
'…His divine power has given to us all things that pertain to life and godliness, through the knowledge of Him who called us by glory and virtue' (2 Peter 1:3).
God has bestowed all blessings that are associated with the material things of the world and the magnificence of His splendour on His children. God is mindful of the mundane and the majestic. He cares as much about your earthly needs as much He does about your spiritual inheritance. This knowledge alone should make us exult in praise to Him. Hallelujah!
How does He give the things that pertain to life – the material things of the world?
In Matthew 6:33 Jesus tells us how. '…seek first the kingdom of God and His righteousness, and all these things shall be added to you.' God's way of giving the things that pertain to life is by adding them to us. While He does the adding, we are asked to continue seeking the kingdom of God and His righteousness. Unfortunately, most Christians seek the material and miss out on the magnificent.
What does God add in our lives? Two things: Jesus said God adds all these things the Gentiles seek and all these things the Father knows we need.
But when it comes to godliness, God does it differently. In John 14:26 Jesus tells us how the things concerning the divine are given to us. '…the Helper, the Holy Spirit, whom the Father will send in My name, He will teach you all things, and bring to your remembrance all things that I said to you.'
The Holy Spirit has a two-fold task when it comes to giving us things pertaining to godliness – He will teach us all things and bring to our memory all things that Jesus Christ has said to us through the written Word of God. The Holy Spirit is willing to be your Teacher and personal Guide in all things. Things pertaining to godliness are given us for a very specific purpose. To conform us to the likeness of Jesus Christ. Apostle Peter says 'His divine power has given to us all things that pertain to life and godliness…that through these you may be partakers of the divine nature…' (2 Peter 1:3-4).
The blessing called Anointing
The fourth level of blessings contained in the all things mentioned in Romans 8:32 is called anointing. It is that gift from God that gives us the God perspective or the God vision. It is a perspective that helps us see things and people just as God sees them.
1 Corinthians 2:15 says '…He who is spiritual judges all things, yet he himself is rightly judged by no one.' That's some blessing, don't you think? That's the ability to decode life and people, but the possessor of the ability himself is not decoded by anyone rightly. Proverbs 28:5 says: 'Those that seek the Lord understand all.'
1 John 2:20 makes it clear that this spiritual blessing is called anointing. It says: 'But you have an anointing from the Holy One, and you know all things.' Seven verses later, Apostle John explains the working of the anointing. Verse 27 says this: 'But the anointing which you have received from Him abides in you, and you do not need that anyone teach you; but as the same anointing teaches you concerning all things, and is true, and is not a lie, and just as it has taught you, you will abide in Him.'
Jesus Christ had this anointing upon Him. 'The Spirit of the Lord is upon Me, because He has anointed Me to preach the gospel to the poor. He has sent Me to heal the broken-hearted, to preach deliverance to the captives and recovery of sight to the blind, to set at liberty to those who are oppressed' (Luke 4:18). The prophecy about Him foretold by Isaiah was literally fulfilled in the life and ministry of Jesus.
'…God anointed Jesus of Nazareth with the Holy Spirit and with power, who went about doing good and healing all who were oppressed by the devil, for God was with Him', says Acts 10:38.
The anointing is not only a bondage breaker. It helps us chose the right path. It helps us break stalemates. It keeps us away from unwanted issues and helps us choose the battles worth fighting. It helps us live our lives in peace and contentment. It gives us a wholesome tongue and helps us win over vain and frivolous arguments.
In this new month, it is my prayer that God will take you to a progressive state of blessing; that He will bestow the blessing called healing upon you; that He will give you all blessings that pertain to life and godliness; And if you have not got the blessing called anointing, I pray that He will pour out His Spirit on you.
To be able to receive these four levels of blessings, what does God expect in you and me? Turn with me to 1 Peter 4:8. In the beginning of the chapter, the apostle asks us to arm ourselves with the mind of Christ, live the rest of our lives for the will of God, be serious and be watchful in our prayers since the end of all things is at hand. After all those earnest directives, Peter talks of the one thing that is required in the life of a believer over and above all things: 'Above all things, have fervent love for one another, for love will cover a multitude of sins.' Yours, mine and others.
'And now abide faith, hope, love, these three; but the greatest of these is love' (1 Corinthians 13:13).
Will you say an Amen to that?