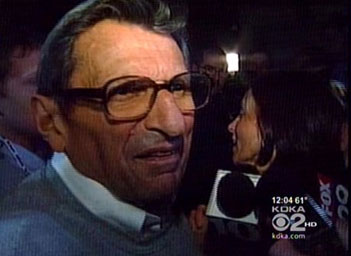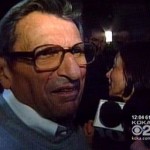 JOE Paterno, the now sacked Penn State football coach, has too many positives to his credit. He is perhaps the only coach who was invincible – well almost. He had 409 game victories an achievement that is not likely to be surpassed in the near future.  Besides that record for major college football, he had also helped his team win two national titles and guided five teams to unbeaten and untied seasons. He was also the fastest among coaches to reach 300 wins.
Paterno, famously called 'JoePa' by his students and fans, also had a philanthropic side to his personality. His family, according to a report, donated more than $4 million to the university, helped faculty positions and fund scholarships besides helping the construction of a library with his name. His record was impeccable. In all the 60 years he had served as coach, he had worn integrity on his sleeves. He was never accused by the NCAA of breaking its rules in 46 seasons. Even when other major college football teams fell by the wayside by various scandals, his team – the Nittany Lions – roared on from one win to another without a blemish.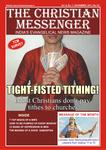 The 84-year-old agile football coach always wanted to go out with his guns blazing – in matches as well as in his retirement. Only, it was not to be in his exit. The firing that was announced by the board of trustees , seems to have shaken Paterno to the core. A shocked-looking Paterno shook hands with some of his students after the board's announcement and kept on repeating that what happened was a tragedy. Indeed. It is a tragedy because when it mattered most, Paterno ducked. While most of his on-field decisions have led to victories, the most important decision that he could have ever made in his life was never made.
It was in 2002 that Paterno was told by a graduate assistant that Jerry Sandusky had sexually assaulted a 10-year-old boy at the Penn State's football complex. Sandusky was then the Nittany Lions defensive coordinator. Media, Penn State and the student community believed that Sandusky was Paterno's heir apparent. Paterno merely informed athletics director Tim Curley and university vice-president Gary Schultz of the allegation and moved on. The charge that is being held out against him by the media is that he never personally called the police to have Sandusky arrested and investigated. Paterno's son, Scott Paterno, went on record recently to say that his dad never took up the issue with Sandusky, a man with whom he had worked for three decades. Sandusky is charged with molesting eight boys in 15 years. He has denied the charge.
Paterno's firing was not wholly unexpected. Earlier this week, while Schultz retired Curley took leave from work after both were charged with perjury for lying to a grand jury and failing to report the crime.
In a statement, Paterno expressed grief for the children and their families and said he prayed for their comfort and relief.
"This is a tragedy," Paterno said. "It is one of the great sorrows of my life. With the benefit of hindsight, I wish I had done more."
The once invincible coach must now be ruing ducking when he should have stood up and be counted. Paterno's inaction in dealing with the Sandusky incident effectively when it was brought to his notice has now cost him his job and his credibility.
His words ("I have come to work every day for the last 61 years with one clear goal in mind: To serve the best interests of this university and the young men who have been entrusted to my care. I have the same goal today") now sound completely hollow.
Proverbs 3:27 says 'Do not withhold good from those to whom it is due, When it is in your power to do it.'
In retrospect, Paterno must be considering the Sandusky issue as one of the big 'games' he ever faced. Paterno could have reported Sandusky to the authorities. Even after he merely informed Penn State officials of Sandusky's crime, as the iconic and powerful coach, he could have demanded justice for the harmed children. That he never did so was to be his undoing. Paterno, sadly, lost this game.
Follow The Christian Messenger on Twitter | Facebook