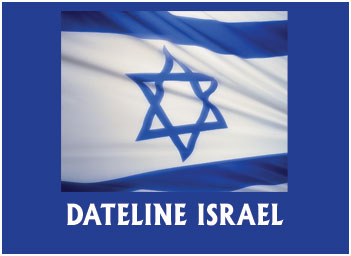 fsBy Don Davis
THE US president says he's got Israel's back. That is brave and gracious to publicly stand for Israel, and Israel truly appreciates it. But, unfortunately the verbal guarantee is no comfort when the reality is revealed.
Simply stated, decisions made in the following weeks and months will either ensure the next Middle Eastern war is conventional or nuclear. Also, this isn't about casual warfare talk, which sounds very intelligent using the 'casual' word term as if no one thinks of war fallout.
There is nothing causal about war and Israelis more than anyone know the severe cost of conflict. They deal with it nearly every single day. Ehud Barak was in the military 35 years, and as an elite commando led and designed some of the most stunning and daring missions in the world. Benjamin Netanyahu was in Special Forces, participating in some of the same missions as Barak. Netanyahu was wounded in a hostage rescue operation (assumed from friendly fire), and has lost a brother, killed in action. Neither Barak nor Netanyahu thinks casually about warfare.
Rather, these responsible, visionary and proactive leaders are trying to avert greater danger and human costs in the next war by making certain the Iranians don't have nuclear weapons. That's intelligent, stopping nuclear arms proliferation by preemptively preventing it. And keep in mind, these leaders know (by personal experience and experienced advisors) far more than we do about Iran, the region, and have the most updated intelligence. | What might really happen if Israel attacks Iran |
What is more, even with the best intentions and organized objectives, foreign governments take too long making decisions in order to save lives. Besides, if governments can't agree or are afraid to act against protests and smaller conflicts, a rogue nuclear-armed nation will be unstoppable. Indeed, this is probably the real reason multinational forces don't attack Syria for fear of bio/chemical weapon reprisals. Yet the dead numbers keep climbing.
Cases in point: In 2009, no one intervened or stopped the Iranian government from massacring their own people protesting for rights, freedom and change.
In February 2011 the Libyan people revolted against their long term dictator. It took a full month for the UN to take protective action for the Libyans but the bloodshed continued. It took another three months to issue an arrest warrant for Muammar Gaddafi. We know from past events that the Libyans eventually succeeded eliminating the tyrant on their own.
Roughly about the same time, protests started in Syria and not long afterwards Bashar al-Assad began killing his own people.  At the date of this article, one year after the killings started, well over 7,000 are reported dead (and one nuclear bomb can do 10 times that).
Consequently, I ask USA and EU, is the 7,000 dead 'talk' a casual or serious topic? What would be considered a serious number of dead? No one has stopped the murdering Syrian dictator, and there is no tangible sign anyone is going to. China and Russia support and protect the tyrant al-Assad (protect Iran too), and they continually prevent anyone else from interceding.
Also read: Why US fails in the trust quotient of Israel
Those are three solid recent examples of intervention failures in the Middle East region. Several world leaders and countries have sincerely tried to orchestrate cease fires, no-fly zones, sanctions, and criminal proceedings but none were in time to stop the widespread slaughter.
As a result, the challenge to save Israel from bio, chemical, and nuclear destruction which only take minutes to accomplish will be monumental. For instance, imagine Iran is launching a missile strike against Israel. Even before the US president can evaluate the situation with his advisors, and before he can order the US military to counter strike or retaliate, it will probably be over.
Furthermore, we know from World War II, the destructive power of a nuclear bomb, although, today they are far more deadly and absolute.
Syria, which also has weapons of mass destruction, is at Israel's border. Iran, depending on whose intelligence you believe, has nearly completed nuclear warheads or has completed nuclear warheads.
Moreover, the latest intelligence from the Germans and the Japanese report that Iran may have tested as many as two warheads in North Korea. Who knows what else the Iranians have secretly accomplished and the North Koreans will assist Iran in every way including keeping the Korean peninsula chaotic to occupy the Americans.
Iran is somewhere between 940 miles and 1,400 miles (depending on location) away from Israel and its missiles fly at approximately mach 7, maybe more. That is about 9 to 15 minutes from launch, flight and impact of a weapon that can incinerate, radiate and annihilate an entire race of people. Let me put a question across to the US. Seriously, do you think you have Israel's back and can protect them? No offense, but nobody is that fast (unless you hit first).
At the very least, Israel's two main cities and adjacent metropolitan areas will be ruble, which consists of nearly half the country's total population of 7.8 million, with massive civilian casualties. If Israel can retaliate there will instantly be a regional war with no doubt multiple nuclear applications.
Yes, I know there are missile defense systems and other defense methods. Except who in their right mind depends on unproven technology against thermal-nuclear warfare that if it fails, even for a single occasion, will kill tens of thousands of people when, instead you can destroy the adversary's weapon before it is operational?
That is why Israel reserves the right to use a preempt strike scenario and you don't have to be a rocket scientist to understand the implication. In fact, I have a difficult time understanding people who don't understand the plausible necessity of the preempt strike option, and waiting too late renders it ineffective.
Israel has taken into account a regional war may follow but a conventional war is far better than a nuclear war which they wish to alleviate. Fortunately, Israel had the previous insight to remove the Iraqi and Syrian nuclear arms threat (the world complained about that too). Thus, the region is spared widespread nuclear usage, and most importantly, with less death to the populations.
So, do you, USA and EU, honestly understand what you are telling Israel to risk? I don't think any of Israel allies comprehend what they are advising Israel to do by waiting. I wonder if they take time to ponder the colossal consequences of a nuclear holocaust gamble. If the allies truly believe what they are saying, and it isn't a ruse to fool the Iranians, then the allies appear to only care about their agendas and vises. Such as the alleged election ambitions and world oil prices.
With the numerous regional conflicts, protests and instability there most likely will be some kind of a war in the region soon anyway. If the war escalates into a nuclear shootout, oil prices will be dramatically affected but most importantly, deaths in the region will traumatically increase.
However, the dead don't care about prospective low oil prices and their family members will receive little comfort from short-term price decreases. I would venture to guess, the family members would rather have their loved ones. What about the voters? I think I could safely rule out major Jewish support for any politician or candidate associated with a deadly strike on Israel, and that may only be the beginning in lieu of potential charges and inquiries.
Plus, future history might reflect that these same leaders, through indecision and procrastination, were directly and indirectly responsible if there is a Middle Eastern nuclear war. Similar to the ignored signs, threats and posturing that prefaced in World War II. The best example is Britain's Prime Minister Neville Chamberlain. His reputation is partially ruined from accusations of not preparing England for World War II and the so-called Hitler meetings in which he received worthless promises. All the while, Hitler was preparing to invade.
There's one more thing to ponder. If Iran had threatened to wipe USA or the EU off the map instead of threatening Israel, would the USA or the EU have more urgency to remove the Iranian nuclear arms threat? Would domestic talk inside the USA or EU about preempt strikes be considered casual or serious war talk?
In conclusion, the only nations that exploit war and war talk casually are terror nations like Iran, Syria and North Korea. Those are the ones who murder and starve their own citizens to pursue weapons of mass destruction to purposely and randomly kill others.
Calculating the cost of war, including the long-term inclusive cost, is very important. Also, oil is important as our daily lives cannot function without it. Our politicians, candidates and elections are crucially important, too. But, ensuring nuclear conflicts and blackmail are eliminated, and the preservation of a race of people is first and foremost.
 Read more columns by the writer
Don Davis has over 20 years experience in analytic research particularly regarding Israeli, Middle Eastern culture, behavior and historical patterns. Don is based in Israel, from where he monitors and evaluates worldwide information on finance, technologies, industries, and the military/political environment for a US consulting company.