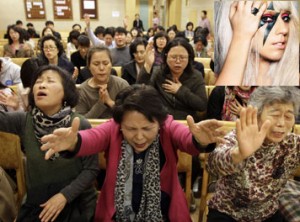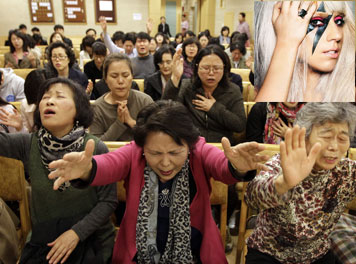 A group of South Korean Christians have come together to pray that the upcoming concert of Lady Gaga in Seoul does not happen.
The concert is scheduled to be held on April 27. The Christian group is protesting the concert on the grounds that 'Just Dance' is not appropriate for public consumption.
A ban preventing South Koreans under the age of 18 from attending the concert is already in place. Although the show was considered suitable for anyone over the age of 12, it was banned for people below 18 after the Korean Media Rating Board revised its age restriction.
Scores of photos that show members of a church group holding defaced signs of the pop singer and passionately praying are available on the Internet.
One member of the prayer rally said they hoped the concert will be cancelled. That way, he hoped, 'homosexuality and pornography will not spread around the country.'
Meanwhile, the Korean Association of Church Communication has also come out against Lady Gaga saying the Korean youth cannot be "infected with homosexuality and pornography."
Earlier this month, Lady Gaga tweeted hopes that the South Korean government would change its mind about the 18+ age restriction on her show.
Gaga is launching her 'Born This Way' Global Tour in Seoul and will then go on to perform in select other Asian cities before commencing 21-show European run, reports added.