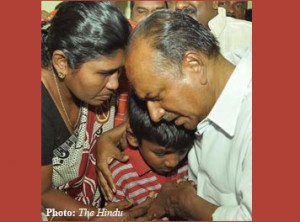 DORAMMA, the widow of Valentine Jelestine, one of the Indian fishermen shot dead by marines onboard Italian oil tanker Enrica Lexie on February 15, has revealed that she accepted the out-of-court settlement of her compensation claim with a heavy heart.
"No amount of money can compensate the loss of my husband. He has been a pillar of strength to me and the two minor children. We will miss him a lot", Doramma Valentine was quoted as saying in the Khaleej Times.
Speaking to the correspondent of the newspaper, she said she had agreed to the deal after close members of the family, including a priest, persuaded her against going ahead with the case.
"I agreed as I realized that I am incapable of fighting the legal battle against the mighty Italians. I hope the Italians will understand our feelings. They have shot dead the two fishermen like birds", she added.
According to her the tragedy could have been averted if the two Italian marines on board the oil tanker, Enrica Lexie had shown enough caution. She said they could have fired in the water before targeting the fishermen.
"I hope God will punish them for their callousness. I have full faith in God. I have been going to church every day. I am sad this has happened to me", she said.
Asked by the newspaper's correspondent if the incident had shaken her faith in God, Doramma replied in the negative.
Doramma said that she did not think the case filed by the government against the marines will bring them punishment. She viewed the change of stand made by the additional solicitor general in the Supreme Court last week as a clear sign of the wrong direction the case is taking. Stern action against the marines is needed to prevent such incidents in future, the report added.
"I hope the government will realize this and ensure the maximum possible punishment to the marines," Doramma said.
The money she received as part of the settlement will be used for her children's education and for building a new house for themselves, she added.