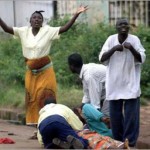 A mob attacked and killed six Christians in the central African nation of Nigeria on Christmas Eve.
According to news reports, the mob dragged a pastor from his home and shot him to death. The attackers also killed two members of the church choir and set the church building on fire.
Meanwhile, at least 32 people died and more than 50 injured when bombs ripped through a marketplace on Friday in the city of Jos, where Muslim-Christian violence has killed thousands in recent years.
African Union Commission's chairman Jean Ping expressed shock and sadness at the explosions in Jos and the church attacks in Maiduguri.
Religious violence has already claimed the lives of 500 people this year in Jos and neighboring towns and villages.