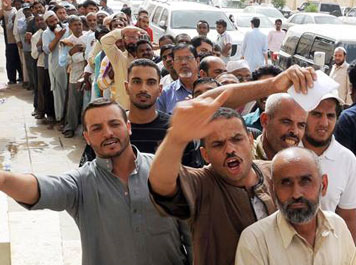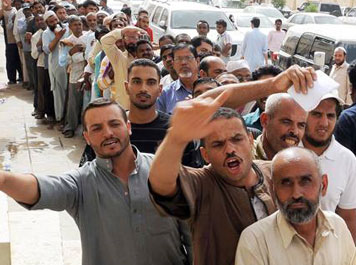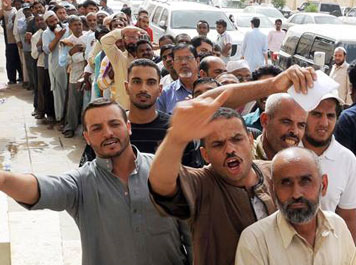 SAUDI Arabia has completed regularisation of nearly four million foreign workers in the last four months as part of its 'Nitaqat' programme, with 1.18 million expats choosing to change their profession.
"As many as 1.12 million expats corrected their professions until July 6. We have also issued and renewed more than 1.6 million work permits during the period," Abdullah Abuthnain, Deputy Minister for Inspections and Developing Work Atmosphere, was quoted by the local media as saying.
Saudi Arabia has recently extended an amnesty for illegal foreign workers in the country by four months, bringing relief for thousands of immigrant workers, including Indians, who are yet to regularise their documents.
Saudi King Abdullah bin Abdulaziz has extended the amnesty period to November 4.
Around 90,000 Indians have approached the embassy for regularisation of their documents as part of the 'Nitaqat' programme.
The new Saudi labour law called 'Nitaqat' makes it mandatory for local companies to hire one Saudi national for every 10 migrant workers.
As a result, a number of people from foreign countries who were working without valid work permits and runaways have come under the scanner.
According to the Saudi labour ministry more than 1.5 million illegal foreign workers have come forward so far to avail the amnesty. Of these, some 1,80,000 have left the kingdom in addition to more than 2,00,000 unregistered workers expelled at the start of the year under new regulations to stamp out illegal immigration.
Meanwhile, Abuthnain said foreigners can change their professions free of charge using the ministry's electronic services, without visiting its office.
According to an Arab News report, Abuthnain said that 34 per cent of regularisation work took place in the Riyadh region. A total of 5,75,800 regularisations have been carried out in the construction sector, while 2,20,172 by the trade sector.
Over 60,335 expats transferred their services to the food sector, 60,101 to downstream industries and 55,139 to workshops and maintenance sector.
A total of 42,836 workers transferred their services to the contracting, cleaning and maintenance sector, 26,566 to individual sponsors, 24,506 to the transport sector, 19,659 to the social services sector and 15,675 to the agricultural and fishing sector, the official said.