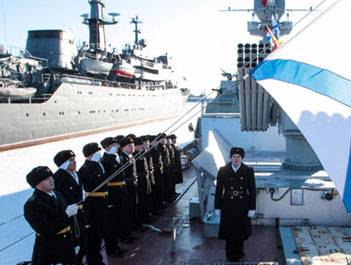 THE Russian Navy will station a permanent task force in the Mediterranean Sea, Admiral Viktor Chirkov said.
"Up to five or six warships must be present in the Mediterranean Sea on a permanent basis," Xinhua quoted Chirkov as telling a TV station run by the defence ministry.
He said the squadron would be made up of frigates, cruisers and support vessels, and would be under the command of Russia's Black Sea Fleet.
Earlier, Defence Minister Sergei Shoigu also said the navy possessed the capabilities to form a workable squadron in the region.
He, however, did not give a timetable for the deployment, which would need to ensure logistics and maintenance of warships in the Mediterranean.
Chirkov said that top Navy officers are currently in the process of strategizing the deployment of a combat group to the Mediterranean. He also said that Russia is prepared to send combat ships to the Pacific and Indian Oceans.
"There was an experience in the history of the Navy when we had squadrons in the Indian and Pacific Oceans. Of course, if needed, we will [advise] the Defense Ministry's top officials, the government and the President [on the deployment of] task forces on a permanent basis there," Chirkov explained.
A Russian fleet operated in the Mediterranean Sea from 1967 to 1992. At the time, Russia's Fifth Mediterranean fleet of Navy ships, consisting of at least 30 to 50 vessels, was intended to counter the US Navy's Sixth Fleet.
In the meantime, Baltic fleet ships are off to the Gulf of Aden to protect vessels from pirate attacks. Combat ship "Neustrashimy" accompanied by a tugboat and a tanker, has left the port of Baltiysk, which is located in the Kaliningrad region, heading for the west coast of the African continent, where it will ensure the safety of civil navigation. It will be the third anti-pirate trip for the Russian frigate and will last for several months.