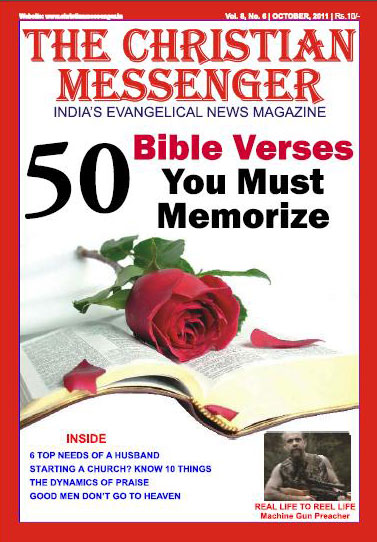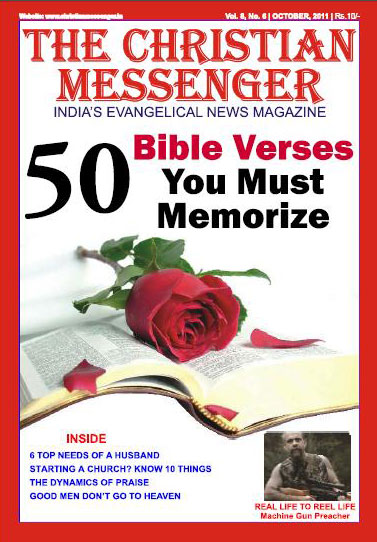 By Robin Sam
THERE was a time when family prayer used to be a regular feature in Christian homes in our country. Prayer preceded supper. If the head of the house was away at work or out of station, the mother would gather her children and lead them in praise and prayer. Now, family prayer has increasingly come under attack. Family prayer has become a quick session before we hit the sack.
I remember when I was young there was much importance given to memorizing the Scriptures. The Sunday School teacher was strict about it. You would feel embarrassed if you had failed to memorize that week's Bible verse. Are our Sunday Schools still strict about it? Let's look at ourselves. Do we as Christian parents tell us our children the importance of memorizing the Scriptures? Long ago, a friend shared with us how his father, a policeman, used to make him go hungry to bed if he did not learn a verse by rote every day. Today, our friend is an evangelist. I thank God for such pious parents. The children who grow up that way can never thank their parents enough.
Someone said memorizing the Bible is like writing the Word of God on our heart so we can repeat it perfectly. If you ask me, it is more than repeating it. Memorizing Scriptures has at least four important benefits. First and foremost, it enables us to be ready for the inevitable spiritual warfare in our lives. To face the temptations of the world, the flesh and the devil we need to know the Word and have it written on our heart. Scriptures offer the foundation for holy living. If we want to know how God wants us to live and conduct ourselves in the world, we have no better guide than the Bible. Knowing the Scriptures strengthens the foundation for holy living as you are not shaken by any diverse doctrine. Thirdly, it offers us the basis for understanding and integrating truth into our lives. If the Word of God is in our heart, the Holy Spirit helps us to discern truth from the philosophies of the world and the fads of the society in which we live. Fourthly, it increases your self-worth. Nobody needs to think that he is too old to memorize the Scriptures. If you prayerfully commit yourself to doing the will of God, He will empower you to succeed in the task. And see how it increases your self-worth. The Word of God edifies. Remember, mere knowledge of the Bible alone will not help you live a holy life. Even the devil can quote the Scripture. If memorizing the Scriptures has made us puffed up and look down upon others who have not yet done it, then we got it all wrong. We need to go back to the basics. The important thing here is to be rooted in the Word and be in Christ.
This month's cover story will help you do it. I hope each one of us sincerely takes this as a challenge and try to achieve it. Even if you take a whole year to memorize 50 verses from the Bible, it is well worth the effort. These 50 verses are not the most definitive ones that you must memorize. There are others. What we have offered here is a chance to exercise your spiritual muscle.
***************************
Last month, a supporter of our ministry in Mumbai sent us a courier with fresh postal stamps for our use. My eyes welled up with tears when I realized how amazingly God provides. We had suspended some important official communications for a fortnight because there was hardly any money in the bank. There were books to be dispatched, renewal reminders that need to be sent to our subscribers and most importantly receipts and thank you notes to be sent to some of our new subscribers. There were other needs. We had also suspended support to some of our outstation missionaries for couple of months and had to cancel at least two medical camps in Tamil Nadu and elsewhere due to lack of money. If this supporter had sent us some money, it would have gone to meet some stray expenses but our communications need would still have remained unmet. God knows each and every need of ours. He cares as much for the smallest of our needs as much for the most pressing of our requirements. And, when He moves people's hearts our needs will be met amazingly. Thank you, uncle Jeba. You are such an inspiration.
We would like to hear from you. Tell us how you liked this issue by sending us your feedback by email to editor [at] christianmessenger [dot] in today!
Other latest messages from the same writer
Why is God so particular that we forgive others?
Why being good is not good enough to go to heaven?
Robin Sam is the founding editor of The Christian Messenger newspaper. A journalist with over 16 years of experience, he has worked with The Indian Express, Sify.com and Yahoo! besides several other publications. He quit his job in 2008 to get into full-time media ministry.

Read latest Christian news headlines
Track The Christian Messenger on Facebook | Twitter