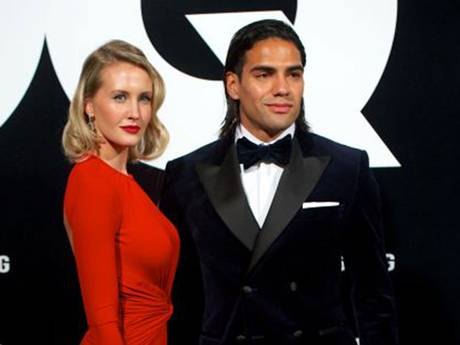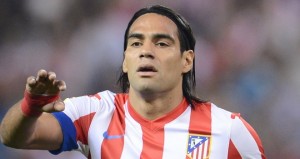 THE conversion of Radamel Falcao was two-fold. He started out life as a defensive clogger before becoming a sleek, free-scoring striker. His spiritual leap of faith was just as life-changing.
Manchester United's loan signing from Monaco spent his formative football years playing as a defender for his local club side in Colombia, Union Magdalena, where he earned a reputation for collecting yellow and red cards at the same prolific rate that he now scores goals.
But after becoming a striker, the emphasis of his life switched also. His footballing change of style dovetailed neatly with his newly-discovered Christianity. The bad boy of his youth was transformed into a devoted Christian and that remains the cornerstone of his life today. But back then it was a struggle to shake off his tough-guy reputation and fans said of him: "For every kick, there's a prayer at a Christian centre."
When Falcao moved to Argentina to join River Plate as a 15-year-old in 1999, it was clear that some of the old habits remained. Former defender Hernan Diaz recalled: "We were used to putting our feet in hard in training. I went in hard on him several times, but I couldn't stop him. It seemed like he'd been playing with us for five years. Then I tried not to advise him but to support him."
His mentor through his early years was an Argentine coach Silvano Spindola, who recommended him to River Plate. Now an evangelical pastor in a church in Miami, Spindola said: "He was a boy who listened to his parents. That was when he started to become interested in the word of God."
Today Falcao's beliefs remain an essential part of his life. He has developed a habit whenever he scores a goal of lifting his shirt and revealing a T-shirt with the slogan: "Con Jesus nunca estara solo" (With Jesus you'll never be alone).
He reads the bible constantly and has been known to encourage his team-mates to join his readings and attend mass. That did not always endear him to his colleagues. His former River Plate team-mate and flat-mate Gonzalo Luduena said: "Sunday was our free day to go out for a walk. We hid because Falcao would look for us in every room to take us to church. "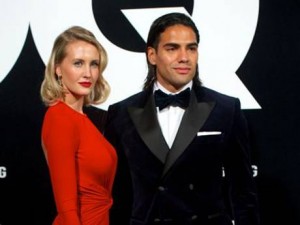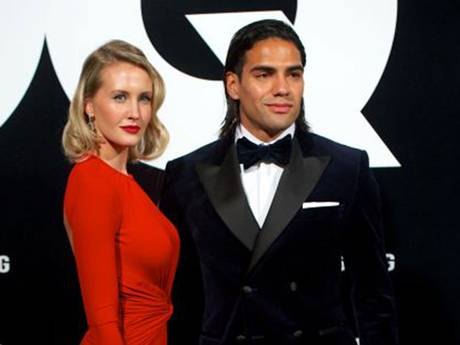 Falcao's devotion to his religion is accompanied by a love of his family. His wife Lorelei is an Argentinan who is famous as a singer. They met in church as teenagers and have a baby daughter Dominique, and she insists she was not attracted to him by his fame or fortune: "What I liked a lot about him was his love for God. Besides, he wasn't the typical footballer who believed he had already achieved everything.
"He made a lot of attempts to go out with me. He made it difficult for me. I said 'no' until my mum said to me that if I liked him I shouldn't reject his invitations. He did a lot of things to win me over and not long after we decided to go to the altar."
Unlike a previous pop star occupant of the Old Trafford players' wives' lounge, Lorelei is neither posh nor pouting and shuns the limelight. "I love my home. Peace, tranquility, bible, reading, praying," she said.
Her husband shares that preference for a quiet life: "It's difficult to go out or have peace when they recognise you easily. That's why I prefer to stay at home."
Falcao is adamant he will make his loan move from Monaco to Manchester United a permanent one and a reported fee of £43.5 million has already been agreed between the two clubs. He has been preparing for his move to the Premier League for some time and began learning English several years ago.
"I study in English classes three times a week, although I often can't complete the timetable because we have a lot of commitments.
"Of course there are important leagues in Europe and I've known that at some time in my career I'd like to experiment. England has a league which players like a lot and one of my aims has been to take part in it."
Falcao has been able to take his career moves in his stride. Moving from South America to play in Europe for Porto, Atletico Madrid and Monaco was no obstacle for a player who left home as a teenager. "I'm used to adapting to a new country as I left home when I was so young. I left Colombia at 14, and in reality I became a man in Argentina, where I spent eight-and-a-half years. There I met my wife at the church I used to go to."
Injury now seems to be the only stumbling block to Falcao's move to United becoming permanent. There is a release clause in the £6m loan- deal stating he must return to Monaco if there is a recurrence of the knee injury which ruled him out of the Colombian squad for the World Cup in the summer.
A damaged anterior cruciate knee ligament, sustained in January during Monaco's French Cup victory over Chasselay, needed a six months recovery period and resulted in the player who fouled him, Soner Ertek, receiving death threats.
Falcao's response was to immerse himself in his prayers and his family and at the time of his comeback, he tweeted: "Thank you God for consoling me and encouraging me during these six months. Thank you Lore for having put up with me during these 193 days when I was unbearable. Thank you little daughter because with your smile you made me forget my sadness. "
Now Falcao thinks only of continuing a career that has brought him a staggering total of 209 club goals from 309 appearances. His aim is to leave that rich legacy behind him when his career is over. David Harison / The Independent