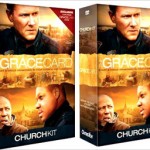 OUTREACH, Inc., a Southern California-based church marketing and publishing company, is offering a sermon series church kit based on "The Grace Card," a new movie which stars Academy Award winner, Louis Gossett Jr., which arrives in theaters across America on February 25, 2011.
"The Grace Card" is being released through Affirm Films and Provident Films in association with Samuel Goldwyn Films, and Outreach, Inc., will be offering related companion resources for "churches that want to explore and bring to life the concept of grace for their congregations."
Graceworks Pictures and Calvary Pictures, a ministry of Calvary Church of the Nazarene in the Memphis area, produced "The Grace Card" with a cast of Hollywood Christian professionals and dedicated locals.
"The Grace Card" is a drama that poignantly illustrates the everyday opportunities we have to rebuild relationships and heal deep wounds by extending and receiving God's grace.
A news release from InChrist Communications, Inc., says, "The movie focuses on the relationship of two police officers whose lives are headed in opposite directions and are forced to grapple with what it means to both receive and extend grace. Containing thematic elements, such as racial reconciliation, the movie wrestles with a nagging question: How do you extend grace to someone when you don't get along?"
That question and many others are tackled in the resources produced by Outreach and developed in partnership with Calvary Church. Interested churches, pastors or lay leaders are encouraged to learn more about "The Grace Card" campaign resources by visiting The Grace Card resource informational page at www.Outreach.com." ANS
Follow The Christian Messenger on Twitter | Facebook