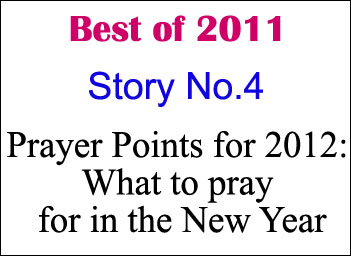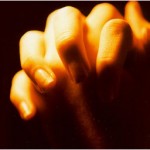 Even as you thank God for all wonderful guidance and counsel you received from Jesus Christ our Lord and Savior in 2010, pray also that the New Year will be a time of coming closer to God. 2 Peter 3:18 asks us to grow in grace, and in the knowledge of our Lord and Savior Jesus Christ. May that be our prayer for 2012.
If you need to make a resolution this year, let it be one to cast all your worries on the Lord. Matthew 6 makes a special case for shedding anxiety from our lives. Pray that this year you will come to trust in the Lord to meet all your needs – both physical and spiritual.
Remember to give God glory for all that He accomplished through you in the last year. Romans 11:36 says 'from Him and through Him and to Him are all things. To Him be the glory forever! Amen.'
Dedicate yourself along with your family into the hands of the Almighty God this year. 2 Timothy 4:18 has a wonderful promise: 'The Lord will rescue me from every evil attack and will bring me safely to His heavenly kingdom.' Let's claim this promise every day of our lives.
Material blessings are important but in this New Year, let us pray earnestly for spiritual blessings. 2 Peter 1:3 says 'His divine power has given us everything we need for life and godliness through our knowledge of Him…' Let us pray that we will know Jesus in a very intimate way, even more than we knew Him in all the past years.
What are we to do to grow more in the Lord? 2 Peter 1:5-7 has the answer: '…Supplement your faith with virtue, and virtue with knowledge, and knowledge with self-control, and self-control with steadfastness, and steadfastness with godliness, and godliness with brotherly affection, and brotherly affection with love.' Ask God to make it possible in you this month.
The Bible calls us to imitate Christ, who is our head. Ephesians 4:15 tells us how we can do it. We ought to speak the truth in love. Pray that the words that come out of our mouth will be truthful and loving.
Let us resolve to choose the good part that will not be taken away from us. While Martha felt like a martyr with all her work pressure, her sister Mary determined to sit at the Lord's feet and listen to Him preach (Luke 10:38-42). Pray that we will find more time to read the Bible and meditate on it this year.
Ephesians 1:4 says God chose us in Christ before the creation of the world to 'be holy and blameless in His sight'. If there are any virtues that we need to pray for ourselves, let it be holiness. Pray that our thoughts, words and conduct will reflect the holiness of Jesus Christ.
Let us remember these are the last days. One of the signs of end times is the rise and growth of false prophets and antichrists. 1 John 4:1 asks us to test every spirit to see whether it is of God. Pray for discernment in identifying and shunning evil.
Pray for a greater infilling of God's love in you. The new commandment of Jesus Christ is to love one another (John 13:34). Even when loving someone who has hurt us or betrayed our faith seems impossible, let us remember 1 John 4:19. We were unworthy of God's love too.
Are you intimidated by the challenges ahead of you? If lack of resource is making you to redraft your plans and tighten the belt, remember our God's name is Jehovah Jireh (God provides). Pray for courage and removal of anxiety from your life. 1 Peter 5:7 asks us to 'Cast all your anxiety on Him because He cares for you.'
Philippians 4:6 outlines the line of action expected of us by God. 'Do not be anxious about anything, but in everything, by prayer and petition, with thanksgiving, present your requests to God.' Let us offer Him thanks, praise and continue to pray. God will meet us at the point of our need.
Matthew 7:19 says every tree that doesn't grow good fruit is cut down, and thrown into the fire. To avoid this shameful damnation, let us ask God to prune us periodically and remove everything that hinders our progress towards Christ.
Riches in life can often hinder us from coming to Christ. The rich young ruler mentioned in Mark 10 went away from Jesus without becoming a disciple because he owned much property. What should be our mindset when it comes to wealth? Proverbs 30:7-10 has a wonderful prayer that we can emulate.
What do you want your children or grandchildren to be? There is no greater joy than our progeny knowing the Lord closely and walking with Him. Luke 2:40 says what kind of boy Jesus was. 'And the child grew and became strong, filled with wisdom. And the favor of God was upon him.' May this be our prayer for our children, too.
Bible warns us that love will be a casualty in the last days. Matthew 24:12 says 'Because of the increase of wickedness, the love of most will grow cold…' Pray that we don't become dispassionate or disillusioned by the ways of the world but be optimists for Christ forever.