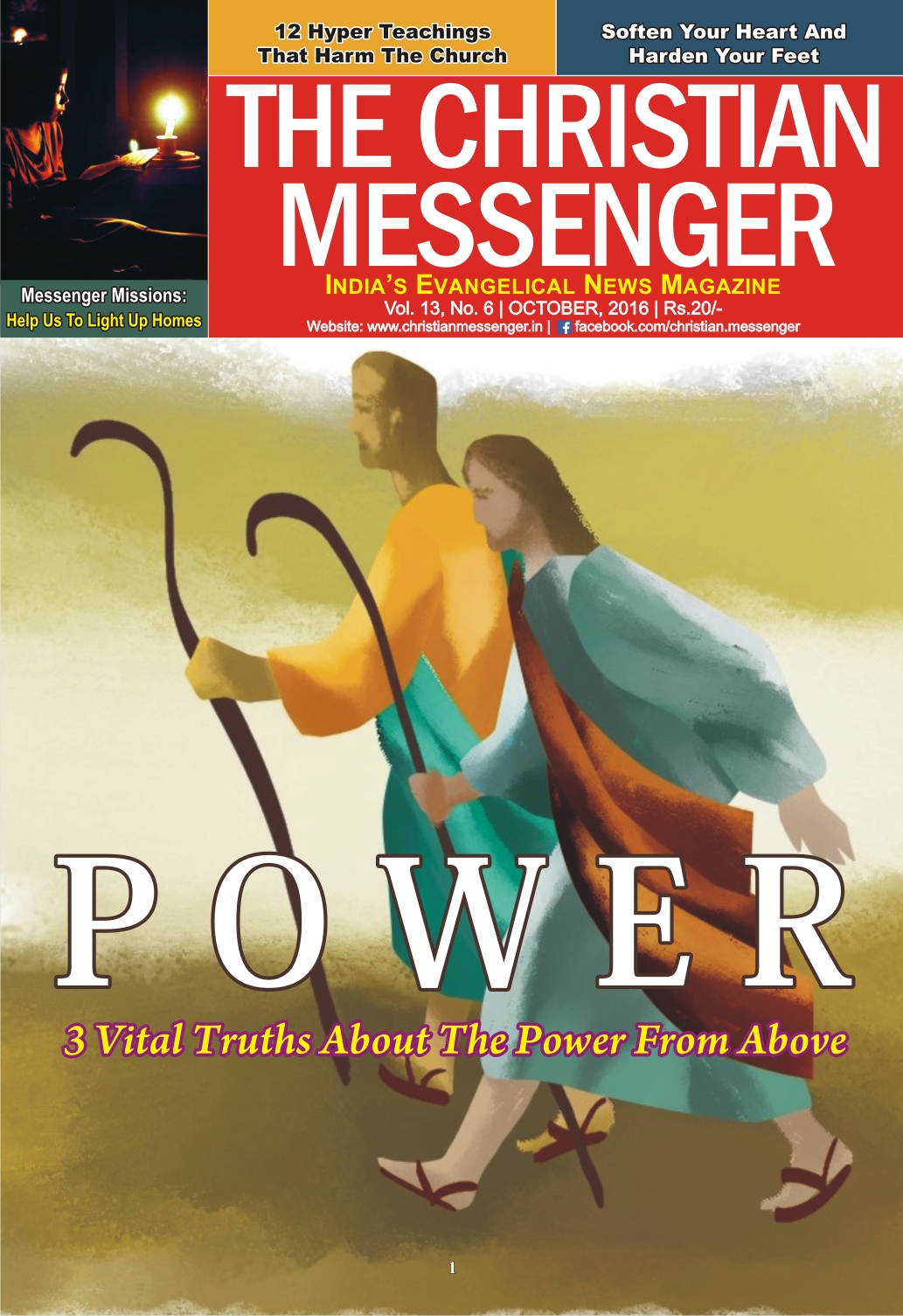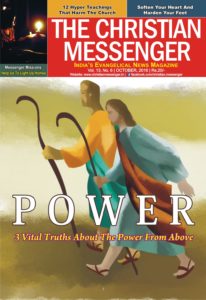 And He sent them out two by two…
By Robin Sam
AND HE CALLED the twelve to Himself, and began to send them out two by two, and gave them power over unclean spirits (Mark 6:7)
THE 12 disciples that Jesus Christ called and separated for His work have seen the Master at work. They had seen and experienced the miracles that He performed in the lives of the people. They had first-hand knowledge about the transformation His words have upon lives – their own lives had been changed for the better. And, now they were being sent out to the mission fields by the Lord. And while He sent them, He took care to send them two by two and gave them power!
Nobody commissioned by the Lord for His work need to go about in his own strength. The Lord Himself gives them His power! Hallelujah!
Now, if you will turn with me to Mark 3:14-15, we would be able to see what Jesus meant to do with the disciples when He called them over to follow Him.
'Then He appointed twelve, that they might be with Him and that He might send them out to preach, and to have power to heal sicknesses and to cast out demons…'
Giving His workers power is never an afterthought in God's mind. When Jesus called the 12 and appointed them, He intended two things for them: That they might be with Him and that He might send them out to preach. However, they would not just be preachers but also be power-packed vessels in His hands. If you are a Gospel worker, commissioned by God, power over evil spirits and sicknesses is yours. God never sends out His people to work without equipping them for the task.
The sending out of the disciples, two by two, is also mentioned in Matthew 10:1-42 and Luke 9:1-6. There, the verses are much clearer than they are in the Gospel of Mark.
Matthew 10:1 says: 'And when He had called His twelve disciples to Him, He gave them power over unclean spirits, to cast them out, and to heal all kinds of sickness and all kinds of disease.'
The disciples had power to cast out the evil spirits and they were given power to heal all kinds of sickness and all kinds of diseases. In short, there was to be no ailment that will be not be subject to their power. What power!
When they were called to be His ministers, Jesus appointed them to have power to heal sicknesses and to cast out demons (Mark 3:14-15) and in Mark 6:7 He gave them the power! Jesus Christ is as good as His word because He is the Word. He never goes back on His promises. What He has promised you, He is mindful to give you. 2 Corinthians 1:20 says: 'For all the promises of God in Him are Yes, and in Him Amen, to the glory of God through us.'
There are three vital truths that we need to understand from Mark 6:7.
Power and authority are given to us in God's time
No worker gets power and authority from Day 1. Jesus' disciples were no exception. Of course, when they were installed as His disciples they were appointed to get power, but power came into their lives and ministry much later. Even today, power and authority are given to us when God deigns it it's time.
That's how it was in Jesus Christ's own life and ministry. At the wedding in Cana, when the hosts ran out of wine, Mary approached Jesus to tell Him about the lack. We don't see Jesus jumping into the thick of things to prove His divinity and exercise His power. His immediate response to Mary is recorded in John 2: 4. 'Jesus said to her, "Woman, what does your concern have to do with Me? My hour has not yet come".'
Jesus knew His hour had not yet come, but when it came He did not delay a minute longer.
Before Jesus ascended to Heaven, He had a word of instruction for His disciples. He knew they were wont to going out here and there on their own. So, He commanded them not to depart from Jerusalem. He knew there were quite a lot of impatient folks like Peter, John and James among His disciples. So, He asked them to wait for the promise of the Father. He said: "…you shall be baptized with the Holy Spirit not many days from now" (Acts 1:5). The promise of the Father will not tarry a moment longer than it is needed, but the disciples ought to be in Jerusalem and wait for it.
Dear child of God, have you begun to lose hope on the Lord's promises to you? Hold on to them. Psalm 33:4 says, 'For the word of the Lord is right, and all His work is done in truth.' Are you worker of God? Do you feel a lack of power and authority in your ministry? Don't despair. Romans 8:32 says, 'He who did not spare His own Son, but delivered Him up for us all, how shall He not with Him also freely give us all things?' Ask for power from above! If you have been called by Him, it's your right. Ask Him and He will give it to you – in His time.
Power and authority are given to us based on our relationship with Jesus
How did the disciples receive power and authority in their lives and ministry? On what basis were they given to them? Their qualification was not the criterion, if that were so nobody would have passed the muster. Their influence in the society was not the yardstick, only Matthew had some semblance of influence in the society because of the job he once held. Their holiness was definitely not considered. It wasn't their loyalty; they were rank deserters. When it was the time of reckoning none of them was with Jesus. So, what mattered really?
Power and authority were given to them on the basis of what they meant to Jesus. It depended on their relationship with Jesus. They were the followers of the Master and that was the only thing that mattered.
In Luke 10, we see Jesus sending another 70 people, two by two, into every place that He Himself was about to go. In verse 17 we see them exclaim thus: "Lord, even the demons are subject to us in Your name." Those seventy people were thrilled that unclean spirits obeyed their command, but they knew where the power and authority came from. The power over demons did not come from any of the 70 names. It came from the Name of Jesus Christ. They knew the power would operate in their lives as long as they had the Spirit of Jesus Christ in them.
When God's Spirit moved in and through Paul many unusual miracles occurred. It reached a point where the physical presence of Paul was not required for a miracle anymore. When they brought an apron or a handkerchief from him and lay it on the sick, diseases left them and evil spirits went out of their bodies. While all these things happened, a group of traveling Jewish exorcists and the seven sons of Sceva, a Jewish high priest, found it all very interesting. They probably thought it would be a highly lucrative way to make a name and a living and hence began attempting to cast out demons by simply invoking the Name of Jesus Christ. Sadly, they did not have a clue who Jesus was. So, they said: "We exorcise you by the Jesus whom Paul preaches." We know how the story and their 'ministry' ended.
In Acts 4:13, the people who heard Peter and John preach were impressed by their courage. They knew they were an uneducated and untrained lot, but they realized that they had been with Jesus. That's a powerful association!
The power is the same as the one Jesus had on earth
Mark 6: 7, 'And He called the twelve to Himself, and began to send them out two by two, and gave them power over unclean spirits.'
Luke 9:1, 'Then He called His twelve disciples together and gave them power and authority over all demons, and to cure diseases.'
Matthew 10:1, 'And when He had called His twelve disciples to Him, He gave them power over unclean spirits, to cast them out, and to heal all kinds of sickness and all kinds of disease.'
If you read above the verses, you realize the importance of the power the disciples got. It was over all demons, all kinds of sickness and all kinds of disease. The power, you may think, was only over evil spirits and diseases. But that's not all. You need to read Matthew 10:8. It says: 'Heal the sick, cleanse the lepers, raise the dead, cast out demons.' The power the 12 disciples got included raising the dead. The disciples got almost all the power that Jesus Himself exercised on earth.
In Jesus' ministry, He raised Lazarus, Jairus' daughter and the son of the widow of Nain. He gave His disciples the same power. What a great God we serve! He gives His disciples the same powers that He has. No guru worth his trick would do it. If a guru taught His disciples all he knew, he would probably be out of business in no time. But, here you have a God who delights in giving His children whatever He has.
In John 14:12, Jesus said: "Most assuredly, I say to you, he who believes in Me, the works that I do he will do also; and greater works than these he will do…"
Elisha who asked Elijah for a double portion anointing received it (2 Kings 2: 15).
Power: A word of warning
Great power comes with great responsibilities. When we are empowered by God, we need to remember that He is not only the source of power but He also has power over our lives (Job 25:2). Romans 9:21 reminds us that He is the potter and He has the power over the clay.
Jesus, the power-giver, will come one day as the One who has "the authority to execute judgement also because He is the Son of Man (John 5:27). And, because He is a righteous Judge we need to remember to live a holy life worthy of our calling.
With authority comes accountability. 'So then each of us shall give account of himself to God' (Romans 14:12). And, finally we need to remember that we don't have to run hither and thither for power. Jesus, the King of kings, is the One who has all authority has been given to Him in heaven and on earth (Matthew 28:18). The Word of God is the source of power. Ecclesiastes 8:4 says: 'Where the word of a king is there is power.' Stay close to Jesus. Stay true to the Word. That's the only way to receive power. Amen.
The 4-Letter Word You Must Avoid In Life & Ministry
Read more from Robin Sam and some more here.