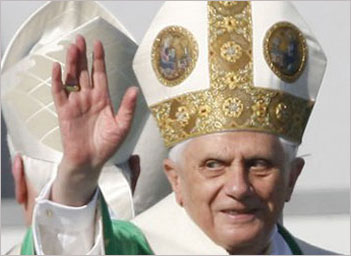 POPE Benedict XVI delivered his last Sunday blessing at St. Peter's Square at the Vatican before he officially resigns as leader of the Roman Catholic Church on Thursday.
"This doesn't mean abandoning the church," the pontiff told the cheering crowdon Sunday. "On the contrary, if God asks me, this is because I can continue to serve – with the same dedication and the same love which I have tried to do so until now, but in a way more suitable to my age and to my strength."
Vatican officials recently denied reports linking Benedict's decision to step down to the growing sex abuse scandal the church has been involved in over the past decade. Some online reports claimed that the pontiff was resigning because of legal action being taken against him over his alleged involvement in the church's priest sex abuse scandal.
"… the Pope, whose given name is Joseph Ratzinger, has a meeting with the Italian President, Giorgio Napolitano on February 23 to beg for immunity against prosecution for allegations of child sex crimes," wrote Shannon Barber of Addicting Info. "Apparently, this hastily arranged meeting, and likely the resignation as well, are the result of a supposed note received by the Vatican from an undisclosed European government that stated that there are plans to issue a warrant for the Pope's arrest."
The Vatican, however, has called these reports "unverified, unverifiable, or completely false news stories."
Vatican spokesman Father Federico Lombardi added, "If in the past, the so-called powers (i.e. states) exerted pressures on the election of the Pope, today there is an attempt to do this through public opinion that is often based on judgments that do not typically capture the spiritual aspect of the moment that the church is living."