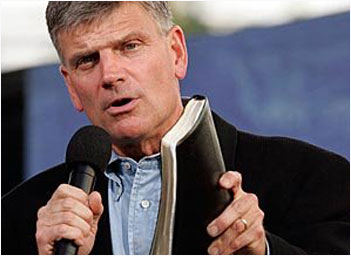 THE Andhra Pradesh Government has sought details of evangelist Franklin Graham's visa in a communication to the Foreigner's Regional Registration Officer (FRRO).
Even as Hindu outfits in the city raised objections to the 'Hyderabad Festival with Franklin Graham' alleging that the evangelist was on a conversion mission to the country, the government swung into action to verify his visa details. The clarification sought with FRRO by the state government is in this regard, it is understood.
Hindu outfits including Vishwa Hindu Parishad (VHP) and Bajarang Dal have alleged that Franklin is coming to Hyderabad on a visiting visa and that taking up preaching activities would be in violation of the visa norms.
According to Central Zone DCP Akun Sabharwal the police has given permission to the organizers to hold the Gospel meeting. An estimated 40,000 people are expected to attend the meetings each day.
A report in Times of India said as many as 40 suspected troublemakers have been rounded up and taken into custody till Wednesday night ahead of the three-day evangelical meeting to be addressed by Graham, son of evangelist Billy Graham.
Franklin Graham has already denied charges that he was on a conversion mission to India.
Speaking to reporters on his arrival in Hyderabad two days ago, he said: "I am here out of obedience to God—to promote a relationship with Jesus Christ, His Son," he said.
Graham emphasized that everyone is invited to come. "This is an event put on by the churches here. There will be great music all four nights—it is a festival atmosphere. We just want people to know about God's love."
Know God | Who is Jesus Christ | How is Jesus Christ unique? | Who will be saved?
Track The Christian Messenger on Facebook | Twitter