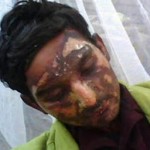 A Pakistani evangelist is still recovering from burns after six young Muslim beat him with sticks and belts and tried to burn him alive.
The incident happened last month in a village near Sargodha in Punjab province of Pakistan.
According to Compass, Christians found Rev. Wilson Augustine (26) unconscious with burns on his head, hand and arm on Nov 22 near the bus stop of a village on the outskirts of Sargodha.
Augustine, an ordained Presbyterian pastor, was distributing tracts and proclaiming the Gospel door to door the previous day in the village the previous day.
A few Muslim men accosted him and asked him to leave the village immediately. According to Augustine, though he immediately left that village the Muslim youth kept pursuing me wherever he went.
On Nov 22, the youth confronted him and beat him up with sticks.
"They dragged me to some nearby shrubs. As they were dragging me, I blanked out, and when I opened my eyes again, I was in the hospital," Augustine said.
A few Christians who happened to see him the next day amidst a pack of dogs in the shrubs rushed him to the hospital.