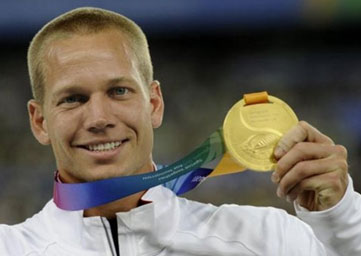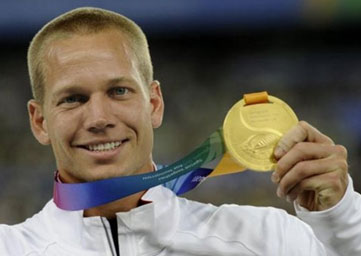 By Teresa Young
IT is easy to dream of becoming an Olympian, but the road to that dream is anything but simple. High jumper Jesse Williams can attest to this, having had his share of struggles along the road to the Olympic Games. And now as the Olympics are here, Williams is hoping to repeat his win from the 2011 World Championships in Daegu and bring home an Olympic gold medal for the United States.The dream started early for Williams. He recalls watching the 1992 Games with his family and identifying high jumper Charles Austin as a hero. But his decision to shoot for the same stars would come a decade later.
An avid athlete from an early age, Williams says he typically could jump higher than his teammates in all the traditional sports. His parents were track and field athletes, and he began to have an interest in the high jump. At age 12, he joined a summer track club in Raleigh, N.C., called the Junior Striders, competing in several different track events over the years. But Williams stood out in the high jump, garnering awards and continuing to improve. He continued the sport in high school, winning state his sophomore year and growing in intensity. He focused on the high jump in college at North Carolina State and the University of Southern California, again finding success. While in school, Williams competed in the 2004 Olympic Trials and placed eighth.
The medal podium was still elusive.
"I wasn't on the level yet to make the Olympic team," he recalls. "But that really inspired me, and I worked a lot harder the next couple of years. I won the national championships on the collegiate level in indoor and outdoor my junior year. After that, I really started having serious aspirations of making an Olympic team."
The next four years would prove more profitable, with Williams winning the U.S. Trials and earning a spot at the Beijing Games in 2008. But the medal podium was still elusive. Aiming at another Olympic appearance, Williams has spent the last four years working hard. But he admits it hasn't always been mountaintop experiences.
In 2009, Williams placed fourth in the U.S. Championships, just missing the cut for the World Championships. Instead of letting those experiences deflate him, he saw them as fuel to work harder and see the dream to reality.
You want to ask God, 'Why?'
"(Adversity) just inspires me to work harder and not get defeated again," he says, noting that his Christian faith helps him keep sports in perspective. "This is all God's plan and you have to trust in Him. It's hard to do when you're putting in so much time and effort and all of a sudden the competition is done. You want to ask God, 'Why?' I know everything's not going to go my way, so I have to trust in God. I try to get focused and spend more time with God when things aren't going well."
Williams says he tries to relay those messages to younger athletes he encounters along the way, encouraging them to keep the big picture in mind.
"Of course, I want to win the Olympics. But if I don't, it's really important to know that it won't defeat me as a person. I will be graceful about it and grateful that I have the chance to compete for the U.S.," he says. "If it's not meant to happen, it's part of His plan and that's OK. But I am doing what I can to get to that podium. If it happens, praise God. If not, I'll praise God as well."
Williams says being able to deal with adversity is important to shaping character and faith regardless of one's sport or interest.
"I don't win every competition. I've lost a lot more than I've won, and it's not easy for sure. Every time I don't win, it's about coming back and proving to myself and others that the loss doesn't define me. It inspires me to work harder," he says. "How you respond to failure really defines you." AIA Communications