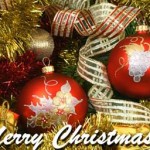 A newspaper in the UK which investigated Christmas greeting cards in that country has revealed that most of them did not have a religious theme.
The shocking revelation was made by The Daily Mail newspaper. It held investigation of over 5,000 Christmas cards at leading supermarkets in England and Wales recently. Of the 5,000 cards only 45 had a religious theme. That is less than one percent of the cards surveyed.
As part of its investigation, the Mail visited outlets of Asda, Tesco, Sainsbury's and Morrisons in cities including London, Cardiff and Newcastle and looked at Christmas cards in multipacks and retail single packs. Of these, the newspaper has labeled Morrisons as the worst offender – out of the 973 cards surveyed at the chain, only six had a religious theme.