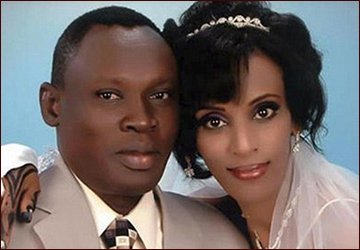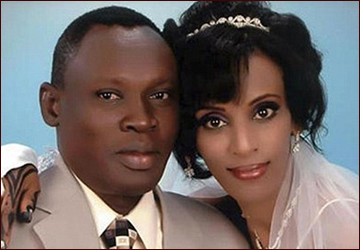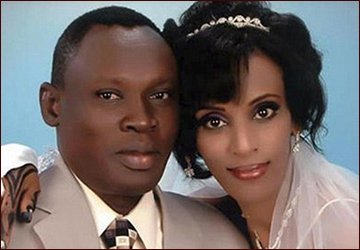 MERIAM Yehya Ibrahim, the Sudanese woman who has been sentenced to death for apostasy, has given birth.
Mrs Ibrahim delivered a baby girl, Maya, this morning while she was still in prison.
"They didn't even take Meriam to a hospital – she just delivered inside a prison clinic," her lawyer, As Elshareef Ali Elshareef Mohammed, told The Telegraph.
Mrs Ibrahim also has a son who is 20 months old and in prison with her.
Her execution has been upheld by the court in Khartoum after she refused to recant her Christian faith, but will not be carried out until Maya is two years old.
Unconfirmed reports suggest that mother and baby are both doing well.
"We are pleased to hear that Mrs Ibrahim and her baby are reportedly in good health; however we urge the authorities to ensure that Mrs Ibrahim's husband and lawyers are granted access to see them both, and that mother and baby are granted the appropriate medical attention," Christian Solidarity Worldwide said in a statement. "With a newborn as well as her 20-month-old son incarcerated with her, Mrs Ibrahim's case is even more urgent. We urge the Sudanese authorities to annul the inhumane and unwarranted sentence given to her and to release Mrs Ibrahim and her young family without delay."
The decision to execute Mrs Ibrahim has been widely condemned. Her husband, Daniel Wani, has vowed to fight the sentence, which includes 100 lashes for adultery, and lawyers have lodged an appeal.
Her case has been picked up by Amnesty International which says that more than 620,000 actions have been taken calling upon the Sudanese government to overturn the sentence.
Co-chairs of the Christian Muslim Forum, Shaykh Ibrahim Mogra and Bishop Paul Hendricks, said the sentence should be dropped out of compassion.
They said in a statement that it was "vital" people are able to enjoy freedom of conscience and follow their own conscience.
Their statement was "wholeheartedly" endorsed by the Archbishop of Canterbury, Justin Welby. Christian Today